Exclusive! Lagos Council Boss, SUBEB Keep Mum As ICPC Set To Arraign Councilor Who Collects Double Salary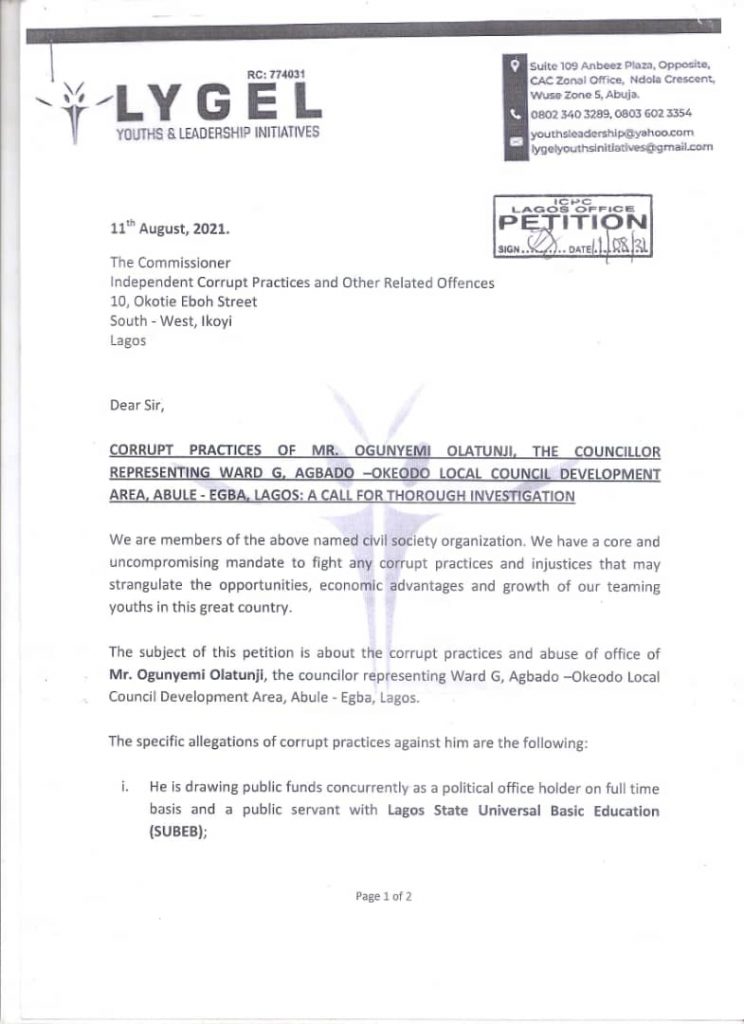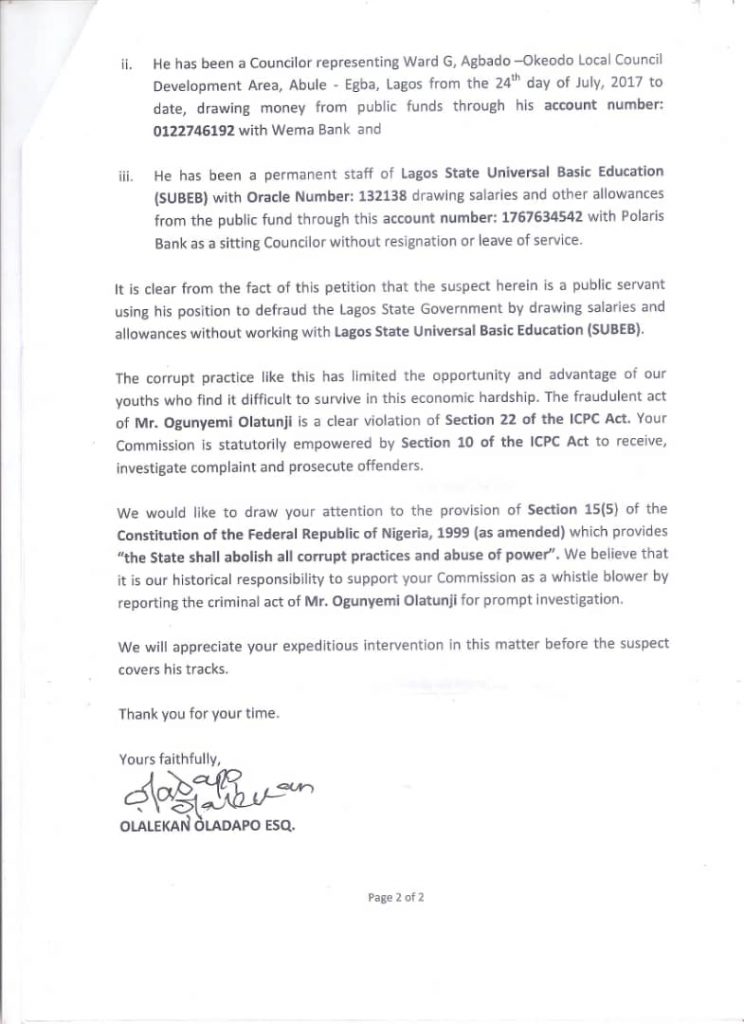 Barring any last minutes hitch, the Independent Corrupt Practices and Other  Related Offenses  Commission, ICPC, is set to arraign the council leader of Agbado Oke-Odo Local Council Development Area, Hon. Ogunyemi Emmanuel representing Ward G who was arrested last week for allegedly collecting salaries and allowances from Agbado Oke-Odo LCDA and Lagos SUBEB.
He's alleged to be a permanent staff of the Lagos State Universal Basic Education, SUBEB.
A source in the ICPC who craves anonymity because he's not authorized to speak on the issue told Newsnowonline that the Councilor has been given administrative bail, pending when he will have his days in court.
" He will soon appear in court, but you know it will take times to put everything together. I can assure you that a prima facie Case has been established against him based on our findings." He said.
According to a petition to the ICPC, a civil society group, LYGEL, aka Youths and Leadership Initiatives, had urged the anti-graft Commission to investigate Emmanuel for drawing double salaries from Lagos state government. As at the time of contesting to represent Ward G in July 2021, Emmanuel was alleged to be a staff with Lagos SUBEB and drawing salary. Even after his inauguration as councilor representing Ward G and also the leader of the legislative arm of Agbado Oke-Odo LCDA, Emmanuel didn't resign, he is still collecting his salary and allowances from SUBEB with ORACLE number:132138 and account number 1767634542 with Polaris Bank while at the same time collecting salary and allowances with the account number 0122746192 with Wema bank from the council since July 24 when he was inaugurated as council leader till date.
Olalekan Oladapo who signed the petition on behalf of the group alleged that Emmanuel is in clear violation of section 22 of the ICPC act.
A source told Newsnowonline that Emmanuel case is very bad and may have indicted some important personalities in the Council and SUBEB who may be aware of the sleaze, but chose to keep quiet.
The chairman of Agbado Oke-Odo, Engr. David Famuyiwa did not react when our Correspondent sent an sms to him over the incident.
A source in the council however hinted that the chairman and other prominent personalities are working to give the councilor a soft landing.
Attempt to get the reaction of the chairman of SUBEB, Hon. Wahab Alawiye -King if he wasn't aware that his staff, Hon. Emmanuel has since been elected as councilor of Ward G in Agbado Oke Odo LCDA was unsuccessful.