2023 Presidential Race : Borno Residents Troop Out To Back Osinbajo, Zulum Joint  Ticket
By Gbenga Akingbule
The people of Maiduguri, the Borno State Capital on Thursday trooped out and could not hide their love for Vice President Yemi Osinbajo and the state Governor, Babagana Zulum, calling on them to vie for the seat of the President and Vice Presidential Joint ticket ahead of the 2023 Presidential election.
The Vice President was in the state on a one -day official visit to commission projects executed by the Prof Zulum led -administration.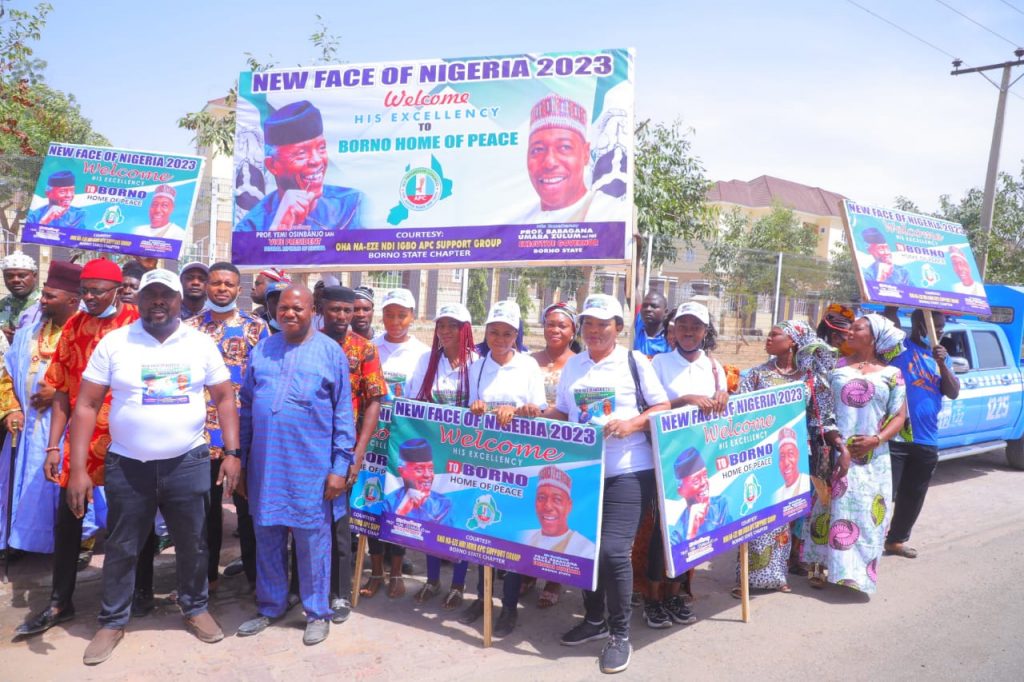 As the VP Journeyed from one project site to the other , the people were seen chanting the praises of Osinbajo and Zulum, urging them to throw their hat into the ring and contest for the position of President and Vice President respectively.
The poster of the Vice President and that of the Borno State Governor was not only seen displayed on some strategic locations within the state capital but some residents went as far as printing banners and holding placards with pictures of Osinbajo/Zulum 2023.
A resident, Elver Audu said she and her group of women and backing Vice President Yemi Osinbajo and Governor Babagana Zulum for their exemplary leadership style " that is targeted at liberating the ordinary Nigerian.
" For the Vice President Yemi Osinbajo, we all witnessed how well he steered the ship of this country when he became the Acting President ; we want him to continue the good work alongside our amiable and hardworking Governor Zulum as his running mate. "
Borno State Coordinator of National Coalition Group (NCG), a group of associations and orgarnisations in support of Vice President Yemi Osinbajo and Prof. Babagana Zulum for President and Vice President respectively, Umar Lawan Mukhtar- said that his members are " mobilising all Borno people to actualise Vice President Yemi Osinbajo and Prof Babagana Zulum joint presidential ticket under the umbrella of the All Progressives Congress ( APC).
At the Government House venue of the launching of the 30th edition of the Federal Government's Micro, Small and Medium Enterprises (MSME) Clinic , the Vice President did not hide his admiration and compliment for Governor Zulum as he urged him not to relax in his quest at developing the state.
" The entire country has observed with admiration the dedication, commitment, compassion and the integrity you've approached your duties as Governor of Borno State. At a time of immense security challenges and economic challenges- in the mix of that crises , you've built several housing units,close to 10, 000 housing units.
" You've built the first Flyover in Bono State, Several Mega Schools, and you've shown and demonstrated what can be achieved with clarity of vision and even with small resources when a leader has love for the people that he serves. Well done and keep it up", Osinbajo openly comended his host – Prof Zulum.