Ojikutu, Kuti, Adeniyi, Others Pay Tribute At Prof Ekindayo Adeyinka Adeyemi's Commendation Service 
The first elected deputy governor in Nigeria, Alhaja Chief (Mrs) Sinatu Aderoju Ojikutu, Arc Olusegun Kuti, Arc Mobolaji Adeniyi and other prominent Nigerians from all walks of life have eulogized the first Nigerian to bag professor in Architecture, Prof Ekundayo Adeyinka Adeyemi who died recently at the age of 84.
To Arc Kuti, a childhood friend of Prof Adeyinka, not to die is to live forever in the heart of those who love you.
Kuti  who said he was always with his late friend while alive described Prof Adeyinka as very patient and good listener.

To Arc Mobolaji Adeniyi, the Iconic figure in architecture (Prof Adeyinka) was venerated as a Trail Blazers as the first professor in architecture.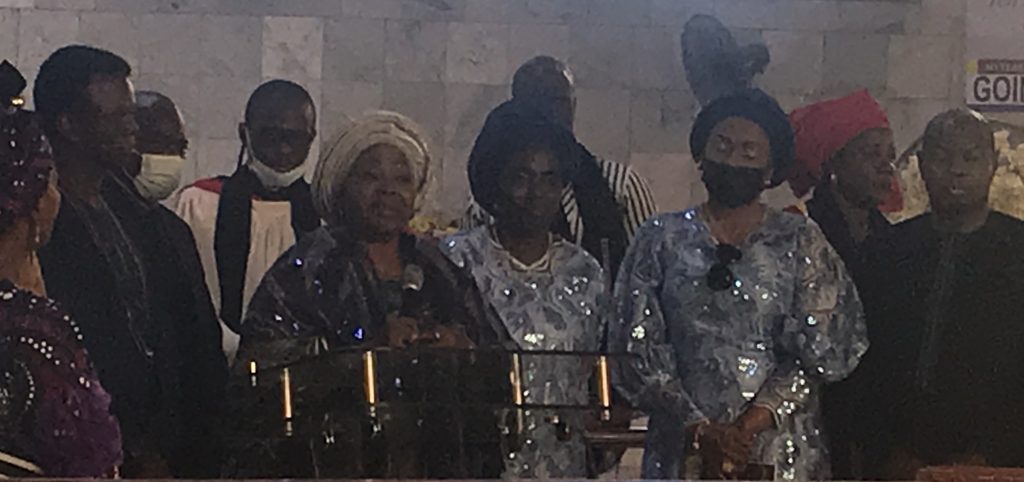 Others from the Nigerian Institute of Architects, Covenant University, Federal University of Technology, Akure and other institutions where Prof Adeyinka Left indelible Marks were full of praises for the late Iconic figure in architecture.
Alhaja Ojikutu said she's very emotional as someone who grew up with him.
She described Prof Adeyinka as a pathfinder.
Explaining how her path crossed with Prof Adeyinka, Alhaja Ojikutu said; "I was a very strong headed your girl and my mother knew that. So she insisted that I must go to Ekiti to study. It was there I met Prof Adeyinka. My father was a Prince of Ado-Ekiti. He was able to trace his lineage. Thereafter, he stood as an independent candidate in 1963 and won an election into the House of Representatives.
" At about age 8, I was surprised that who's that man that people always looking towards his arrival in town. I noticed that before I later moved to Ijebu-Ode to continue my secondary education before I berthed at UNILAG. After the death of my father, Prof Adeyinka had another brother. Uncle Dokun Adeyemi. My father died in November 1959. How the story of my life changed through the Adeyinka. It was the encounter that December 1959 that changed the trajectory of my life. Though my father had money and wrote in his Will that we must be educated to any level we wanted. My father was not discriminating either a girl or boy, but if there's no direction, no mentorship, I don't know what I would have been. He encouraged me to apply for a job with my HSC awaiting results. I got the job and that marked the turning point in my life. At another time, I got my visa to travel to the United States of America, someone was to meet me at the airport, but three days before I traveled, I called to inform Prof Adeyinka that I will be coming to the US. That was in 1973. It was his timely intervention during the winter at the Airport in the US otherwise, I would have been deported because the person that ought to come and pick me was nowhere to be found." She added.
Dignitaries at the service include Alhaja Sherifat Jakande, Alhaja Oyefusi, wife of late Ayangburen of Ikorudu and Prof Adebayo Williams amongst others.