Odumakin's First Anniversary: Adebanjo, Falana, Bakare, Others Insist On True Federalism
Afenifere Leader, Pa Ayo Adebanjo, Serving Overseer of Citadel Global Community Church, aka Citadel, Pastor Tunde Bakare, fiery human rights lawyer, Femi Falana, SAN, Olumide Fusika, SAN and others who came to pay tributes at Mr. Yinka Odumakin first year anniversary of transition and launch of foundation, Oluyinka Odumakin Foundation and book in his mem ory were unanimous that true Federalism is the panacea for good governance and egalitarian society.
They spoke in Lagos on Friday on the need to restructute the country.
Leading the charge, the nonagenarian leader of Afenifere, Pa Adebanjo was unequivocal that organizing election without restructuring Nigeria is a waste of time.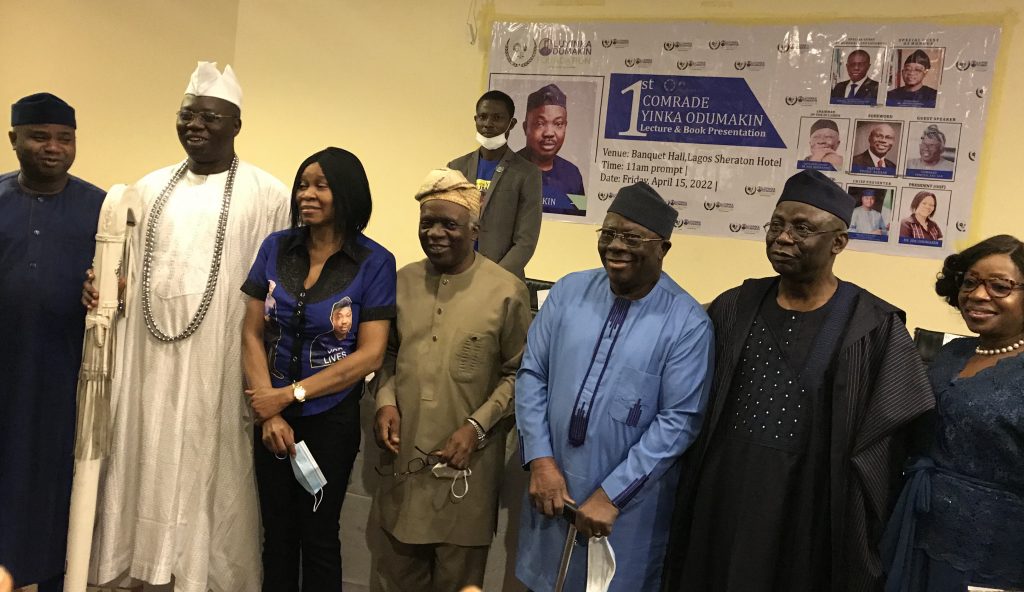 " Election without restructuring is an exercise in futility." He said.
To Falana, the courts have provided a succor for those who are willing to take such route.
He cited the case of Lagos state and federal government over seizure of allocation when it created additional local governments.
He, however, maintained that most of the governors are timid and would not want to challenge some of the excesses of the federal government in court.
He said, " The struggle for freedom is not an easy battle. It's legal and political. Legal; and I think we have reached a dead end now. And political, we must ensure that we get the politics right. Now that Abuja has collapsed, this is the time to move. Akwa Ibom has Ibom Air now that is on the Exclusive Legislative list. Take the action first and allow the Federal Government to sue. Rivers state challenged the federal government in court over Value Added Tax and won. The FG appealed but knowing that they cannot win, they rushed an executive bill to the National Assembly and that has been defeated now."
The Book Reviewer, Olumide Fusika said the state governors are stifling the local governments funds and have rendered it ineffective.
Making a veil reference to a local government chairman in Ekiti state who said she was asked to sign for a N100m allocation by Governor Kayode Fayemi while a paltry N7m was released to the council.
Fusika corroborated others that it's when true federalism is in operation that government will be more effective.
Aare Ona Kakanfo of Yorubaland, Iba Gani Adams said the late Odumakin was a true compatriot.
He expressed the fact that his comradeship with Odumakin was very interesting because he always stood by him.
To Bakare, the memory of the Just is blessed forever.
He said his path crossed with Odumakin In 2009 before the formation of Save Nigeria Group, SNG, in 2010, adding that since then, they have worked together towards berthing a new Nigeria.
The widow, Dr. Joe Okei-Odumakin expressed her appreciation to friends and colleagues of her late husband who stood by the family during the moment of grief.
She assured all that the Oluyinka Odumakin Foundation will strive to work hard in order to sustain the ideals and what Odumakin stood for while alive.