Alawo Stool: Dethroned Alawo, Adegboye, 5 Others To Face Criminal Charge Over Alleged Forgery Of Selection Documents
No fewer than six(6) persons including the recently dethroned and imposed Alawo of Awo, Mr. Taiwo Abdulrasaq Adegboye, would soon be facing criminal prosecution over alleged forgery of selection documents in respect of stool of Alawo.
This is just as a human rights organization, the Centre for Human Rights and Social Justice (CHRSJ) alleged complicity of Officer-in-charge of the matter at the Criminal Investigation and Intelligent Department(CIID) of Force Zonal Headquarters, Zone-(XI), Osogbo, Osun State, Inspector Timothy Sandra after the Complainant, Prince Abubakar Adeniyi had written his statement since September, 2021.
Adegboye and five(5) others including; Hamzat Abidoye Gboyelade, Abiola F. Olambintan, MA. Akinade, Aina Adelu and Adiyeloja, have been dragged before Police authority for criminal allegation of forgery act.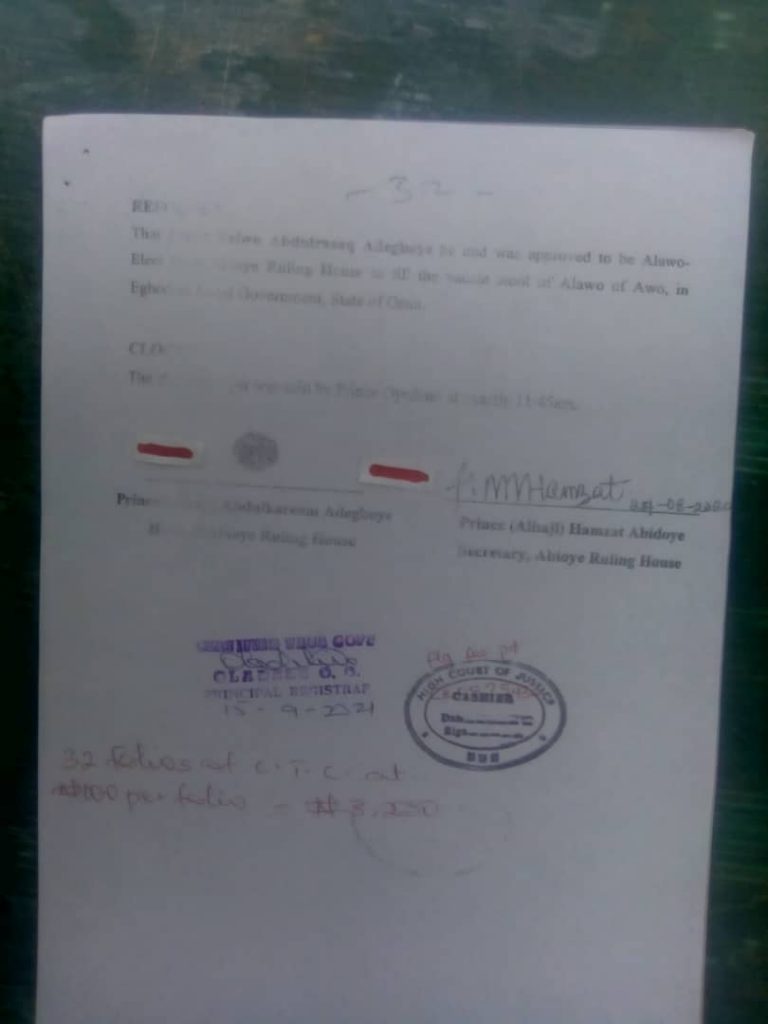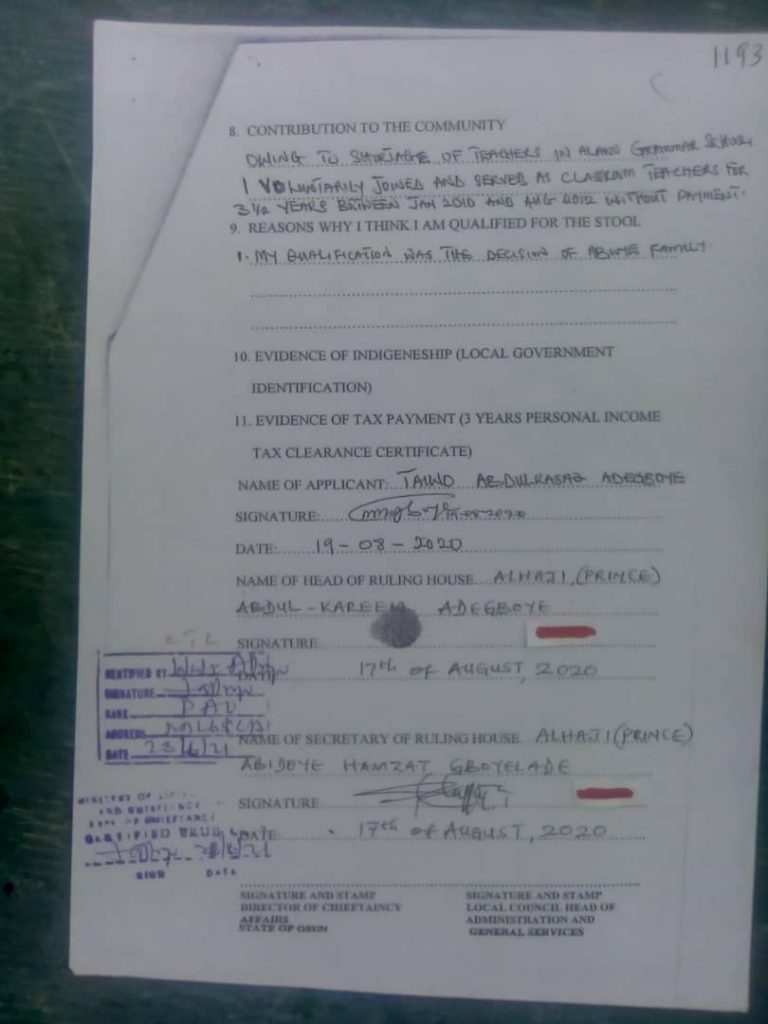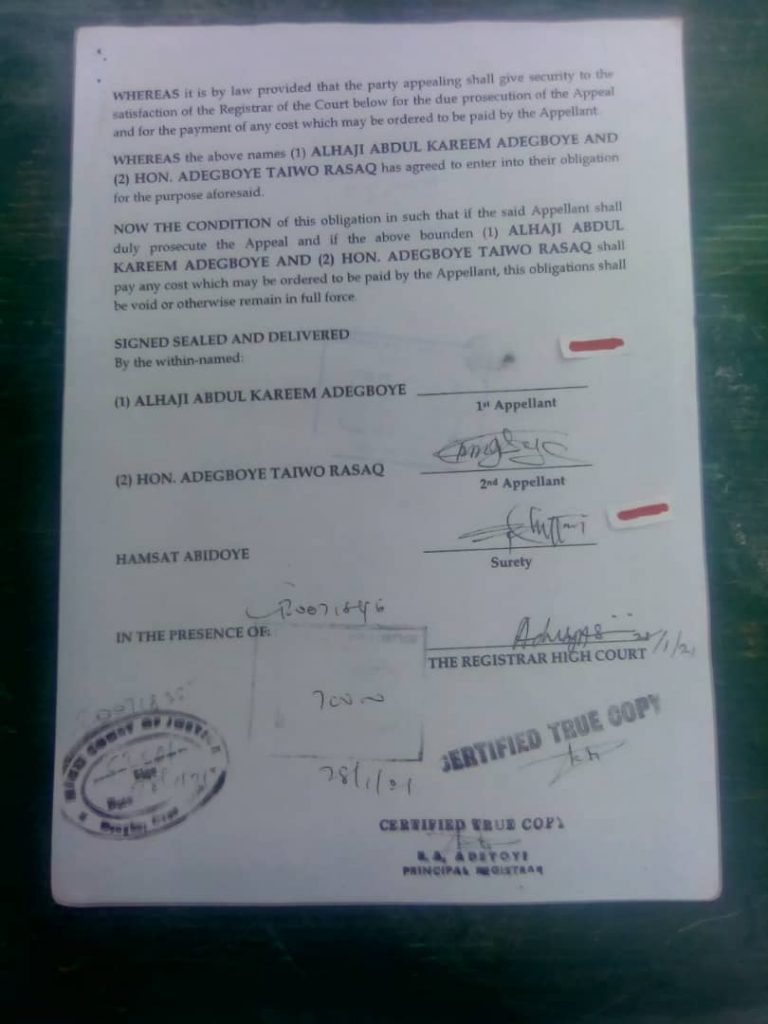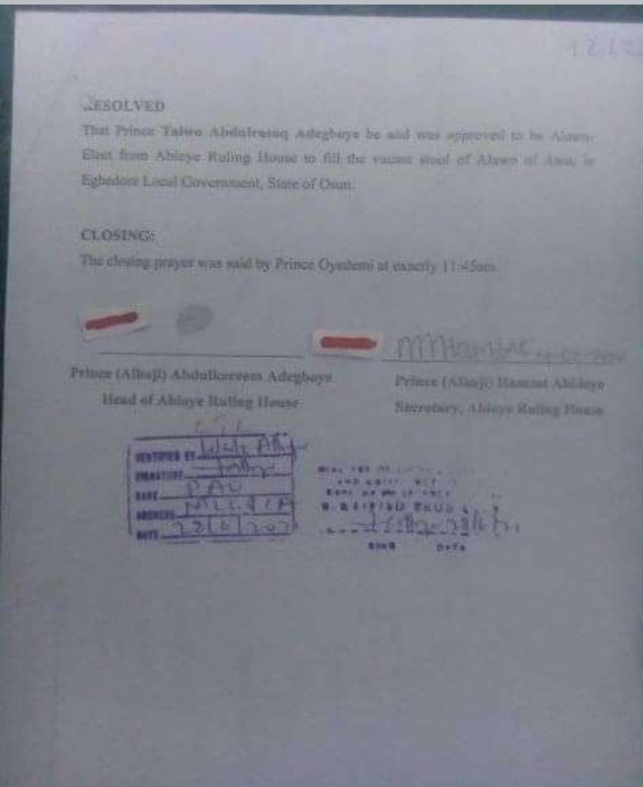 CHRSJ, in a Petition letter dated 26th of April,2022 and signed by its Assistant General Secretary(AGS), Pastor Michael Agaasi (+2349018677671) and forwarded to the Police boss, IGP Baba Usman Alkali, which the copies were made available to newsmen on Monday, calling for immediate intervention of the IGP Alkali by arresting the aforementioned persons and subsequent prosecution in a Court of competent jurisdiction.
Specifically, on Monday 8th of August, 2022, the Court of Appeal, Akure Judicial division removed Taiwo Abdulrasaq Adegboye from the stool of Alawo by declaring Adegboye as an impostor and as well declared Adegboye's appointment as new Alawo of Awo as illegal, null and void.
The Appellate Court also lambasted the Attorney-General and Commissioner for Justice, Mr. Femi Akande, for misleading Gboyega Oyetola's Government to involve in contemptuous action by referring to them as contemnor over illegal appointment of Taiwo Adegboye on September 13th, 2021 during the pendency of the CA/AK/58/2021 on HOS/84/2020, saying they were dangerously poking fingers into the eyes of the Rule of Law.
Although, Taiwo Adegboye had filled a Notice of Appeal, informing the Appellate Court of his intention to approach the Supreme Court of Nigeria with time bound for such action, adding that he also filled the "Stay of Execution" before the same Court of Appeal, Akure Judicial division to nulify their earlier judgement of flagrant disobedience to Preservative order of the lower Court to maintain 'Status Quo' pending the hearing and determination of the Suit N0: HOS/84/2020.
But filling of the two actions do not equate the Judgement of Court of Appeal, Akure because adherence to Appellate Court Judgement should be paramount to all litigants in the matter, citing the case of imprisonment of Senator Orji Uzor Kalu, representing Abia North Senatorial District at the current Upper Chamber of the National Assembly when the High Court sentenced him to Correctional Centre (Prison) and he was observing the Judgement by serving the jail term before the Appeal Court quashed the lower Court Judgement.
It was further alleged that Taiwo Adegboye and his cohorts could perpetrate the evil acts of forgery of selection documents on Alawo stool in collaboration with Special Adviser to Governor Gboyega Oyetola on Local Government and Chieftaincy Affairs, Evangelist Rasaq Adeosun because of Adegboye's unrepentant membership of All Progressive Congress (APC).
The Petition said; "The alleged suspects had acted in contrary to sections 15(5), 24(a),172, 209, and Fifth schedule, Part I (1,8,9,11(1),12,13) and 18 (1,3,6,7) of the 1999 Constitution of the Federal Republic of Nigeria, as amended in consonance with Part II(15) of the amended 1999 Constitution of the Federal Republic of Nigeria.
"As a human rights organization with respect for the rule of law and also stipulated in the amended 1999 Constitution of the Federal Republic of Nigeria and criminal code that the criminal action could be instituted against any committer at anytime except those elected into the executive position in the country where they are covered by the Section(308) of the 1999 ppConstitution pending the time of expiration of pppholding such an office."
Issued by :Media Unit,Centre for Human Rights and Social Justice (CHRSJ).