Just In: Paris/ London Club Refunds: Honour Your Agreement With Ned Nwoko , CUPP, Others Urge NGF
A Coalition, Coalitions of United Political Parties, CUPP and civl society organizations have urged the Nigerian Governor's Forum not to renege on its agreement with Hon Ned Nwoko over his consultancy payment on the recovery of Paris/London Club Refunds.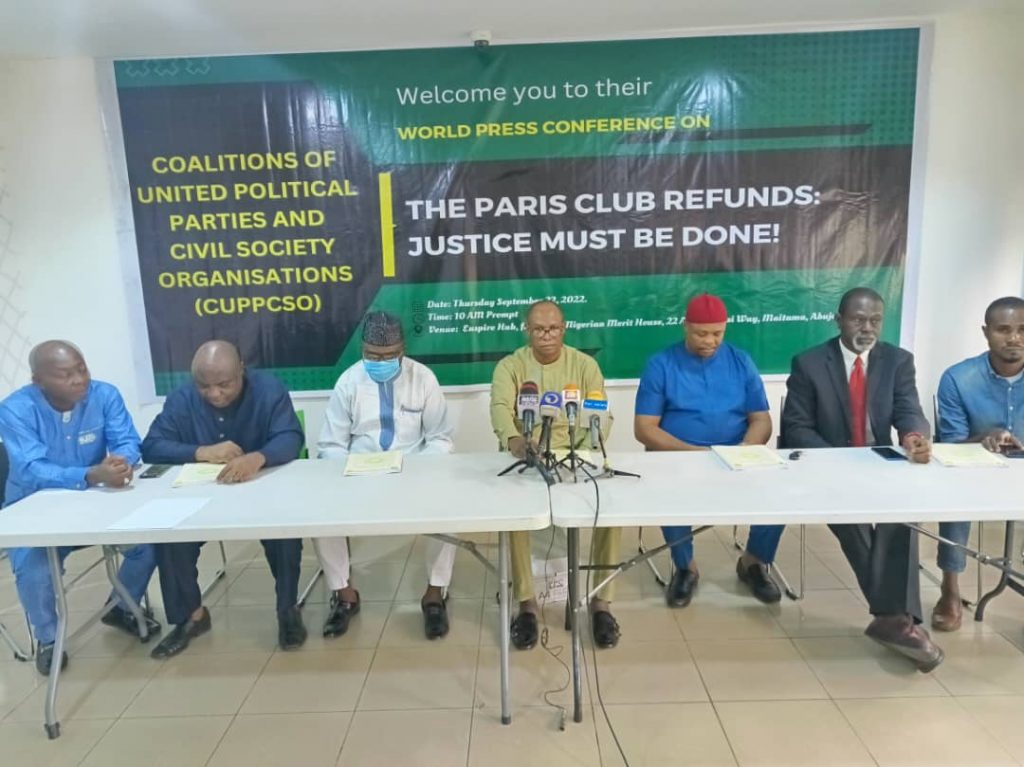 The groups at a press conference held in Abuja on Thursday maintained that since Hon Nwoko has fulfilled his own part of the bargain, the onus is on the NGF to reciprocate by paying promptly without further delay.
Comrade Mark Adebayo, National Co-Spokesman, CUPP, flanked by Comrade Femi Lawson, convener of CPA and Comrade Kenneth Udeze of CUPP spoke at a crowded press conference in Abuja.
According to Comrade Adebayo; "there is nothing difficult to execute in paying a man who did such a wonderful job of recovering billions of dollars for you that you never knew existed. He deserves a national award, not witch-hunting. We appeal to all relevant authorities involved to do the needful and sort this matter out once and for all".
The groups said; "It is our sense of patriotic commitment that informs this Press Conference to ensure that Nigeria does that justice is done to all concerned on the issue of the Paris and London refunds . The issues related to the Paris/London Clubs refunds have to be laid to rest once and for all with all parties involved doing the needful to avert a more complicated dilemma for the country.
"It is strictly in national interest that we decided to make this intervention in conjunction with members of the Civil Society to ensure that the facts of the matter are laid bare for broader public understanding and get justice done as quickly as possible.
"We are all aware that recently there was a disturbing incident of claims and counterclaims regarding the Paris/London Club debt exit vis-ā-vis the roles played by consultants and the outstanding charges due to them running into millions of dollars. There has been a lot of confusion surrounding the whole saga with deliberate efforts being made by certain interested parties to obfuscate the facts in order to direct the narratives to suit their nefarious purposes and dark interests. It has been deliberately characterised by well-orchestrated blackmail, denials and outright coverup.
"The general public has been misled by wicked propaganda and deliberate misinformation on the subject matter for so long and that cannot be allowed to continue.
"Being a matter that concerns our national commonwealth, we consider it a patriotic duty to intervene in a decisive manner not only to lay the facts bare but to also ensure that justice is served to all parties involved. This is a public interest matter and we have a duty to intervene as individual patriots and organisations with a view to resting the matter once and for all. If anything, Nigerians deserve to know the whole facts of the matter.
"Personally, I have made public comments about this matter on live television based on the information at my disposal on the issue at that time upon which I alleged that the consultants were looking to reap where they did not sow. But after much interrogation based on the interests shown on the matter by credible Civil Society and anti-corruption organisations, some of which are represented here today, we decided to dig deeper into the matter to unravel all the variables and, via the application of the instruments of the Freedom of Information Act, we succeeded in accessing some crucial documents relating to the matter some of which will be distributed to the media today. This is to make the public realize that we are speaking to already established facts and not mere speculative subterfuge.
"To start with, I would like to clarify certain points I raised in my live interview on the African Independent Television , AIT, on August 23rd, 2022. Inter alia, I alleged the Attorney-General of the Federation of overzealousness in his efforts paying off the consultants at the detriment of other judgment creditors which might be due to his personal interests. That couldn't be further from the truth. In fairness to his person and office, he acted in total altruism. We have since discovered that the Federal Government, through a presidential directive, decided to settle all accumulated judgment debts en bloc. It was on the basis of the totally unnecessary controversies, as you will soon discover, surrounding the Paris/London Club refund that warranted the direct intervention by the office of the HAGF. He acted in good faith in accordance with the realities of the matter and subsisting rulings and orders of courts of competent jurisdiction on it. Any misinformation with regard to this is highly regretted and the records will be set straight here today.
"We have discovered that there were three categories of judgment debt and all were given attention/presidential approval to be paid through promissory notes.
"Finally, let me quote from the letter of no objection addressed to the Federal Minister of Finance on 5th July, 2017 by then Chairman of the Nigerian Governors' Forum, His Excellency the former Governor of Zamfara state, Hon. Abdulaziz Yari Abubakar, in which he stated, among other things that,"We write to confirm that we do not object to the direct payment of the balance of consultancy fees due to Local Governments consultants and contractors from payments due to Local Governments, to Messrs Linas International Limited/Consortium …"
"Also find attached a copy of the letter of the President of the Association of Local Governments of Nigeria (ALGON) dated 30th June, 2017, confirming that ALGON and Messrs LInas International Limited entered into a contract that resulted in the refunds of deductions against the Local Government Councils in Nigeria".
The coalition maintained that even from the EFCC report and the NGF letter of no objection quoted above, it is clear that Ned Nwoko Solicitors and Linas International Ltd worked to assist the States and LGs to recover their overdeducted funds from the Federal Government.
"The main issue now is that, having made part-payments of the consultancy fees Ned Nwoko Solicitors and Linas International, the Nigerian Governors' Forum decided to stop midway and wouldn't want to pay the balance of the outstanding fees. The question now is why?
"Having carried out such an outstanding assignment for the states and LGs to assist them recover billions of dollars that they never imagined they could get, one would have thought that one good turn deserved another and that the NGF and ALGON would, without any hesitation, fulfill their pre-assignment financial obligations to Ned Nwoko Solicitors and Linas International.
"Alas! That's not the case here.
"The questions are, why are the governors doing this? Why would they block the legitimate earning of a Nigerian citizen who worked so hard to rescue you from financial calamity? A man who deserves a national award is now being treated like a common criminal and being painted bad to the public. This is an egregious injustice that must be reversed immediately by fully meeting the financial obligations entered into with Ned Nwoko solicitors and Linas International Ltd and rest this matter permanently.
"As you will notice on pages 19-20(1V) of the report of EFCC's investigation on this matter already given to you, it was stated categorically that "there are proofs that both Ned Nwoko Solicitors and Linas International Ltd engaged the services of different professionals to carry out their assignments leading to stoppage of the deductions and subsequent refunds in 2008". "Now, after investing his own money to engage professionals – auditors, chattered accountants, lawyers, forensic experts, etc – locally and Internationally who worked so hard to secure these refunds, the NGF is blocking the payment of his fees for no just cause. This is the crux of the matter that must be resolved immediately." The groups said.