Governor Abiodun Will keep His Word On Alagbole/Akute Road
Just a few hours ago, Azuh Arinze, a Publisher and Author, cast doubt on the ongoing efforts by the Dapo Abiodun-led administration to give Ogun State residents in Akute-Ajuwon-Alagbole-Olambe axis of Ogun State a cause to smile by repairing their road.
The seasoned journalist, who like many media professionals has been living there for so many years, makes the following observations based on experience: "I have lived in that axis long enough to know and understand the game usually played by them (governors). Once elections are approaching, they move caterpillars and some idle "men at work" experts to the terrible and horrible roads. These men are usually busy doing nothing and making worse a bad situation with their artificial creation of perennial gridlock. As you drive to work in the morning, you will see them going up and down. In the evening, while returning from work, instead of seeing results, you will still see them faffing around and constituting even a bigger nuisance."
And then he added this clincher: "Governor Dapo Abiodun just began his days ago. I don't know how it will eventually pan out, but like I wrote in the title of this piece, I am very, very skeptical about what he began there some three or so days ago. I drove past the road today and except I want to deceive myself, my conclusion is "dis na still de same old story and style." However, I hope I'm proven wrong this time round. Until then, make all of us still dey watch the free cinema."Naturally, many of those who reacted to the post published on his social media timeline toed a similar path, saying that governors were very fond of gimmicks during elections. They made reference to Amosun who came around in a jamboree and dropped supposed workers on the site, only to vanish into the thin air after criminally raising the people's hope.The naysayers can't be blamed: their scepticism is rooted in decades of empty political promises. But then, do not our people say that the patient eyes will inevitably see the nose? We urge our esteemed members of the Fourth Estate to exercise a little patience, shelve their cynicism, and judge Governor Abiodun by his record since assuming office as the fifth democratically elected governor of the Gateway State.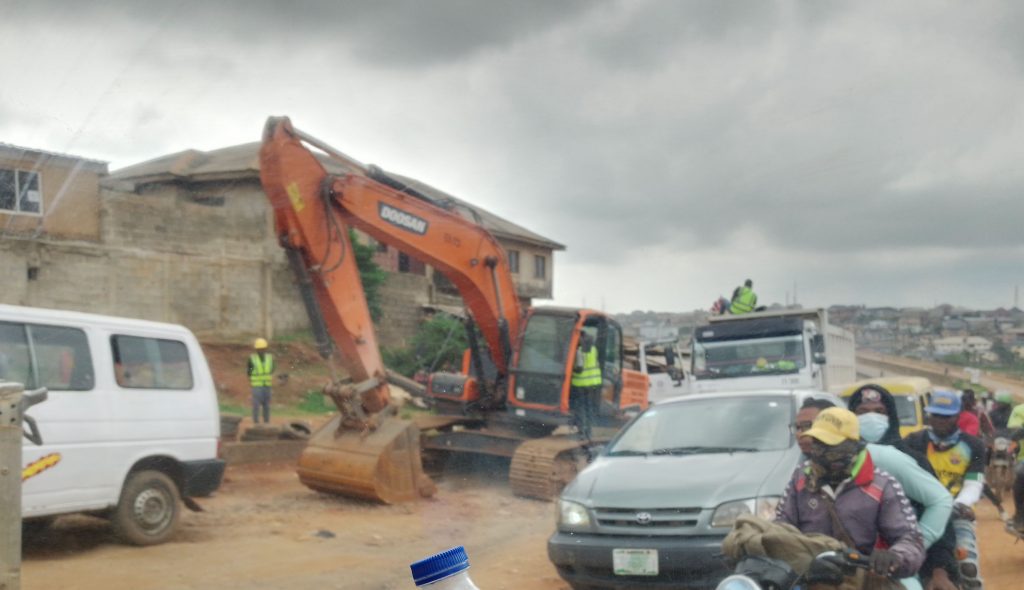 It is true that previous governors shirked their responsibilities on that road but Prince Dapo Abiodun, cognizant of his mission in history and intent on fulfilling it, has in the last three and a half years given ample indication that he is woven by a different fabric and does not play around with his word. As a human, he is naturally imperfect but he has never shied away from the lofty standards to which he usually aspires, has never played games with the people's emotions or scoffed at their pains, and definitely has no intention to do a bad job at Alagbole and the adjoining communities. Being an Omoluabi, he knows that his word is his bond, and those who know him can say whatever he promises to do to the bank, knowing his sincerity of purpose, honesty of mission, commitment to excellence, and abhorrence of hypocrisy and artifice. The plain, simple truth is that in a short while, there will be motorists plying the roads under reference and appreciating Governor Abiodun for keeping his word. If you have travelled on the Shagamu-Abeokuta road or the Ijebu-Ode Epe road, not to mention the countless inner-city roads that dot every part of Ogun State, and been to places like Ilaro, Atan-Agbara-Lusada, etc, you cannot but agree with this observation.It will be recalled that when Governor Abiodun came on board, he came with a clear vision to make palpable difference in the lives of the Ogun populace. He began work on the road projects he met and rolled out a scheme of road repair, rehabilitation and construction across the state.Two months ago, some editors visited Ogun State and intimated the Governor with the plight of the people in Alagbole and other parts of the state and the governor promised to intervene. And he has, not only in that area but in so many others, including Sango-Ota. The Akute-Alagbole road is being done as promised. The Governor did not promise dualisation: what he promised was the repair of a part of the road. He also acknowledged that the previous administration never did its homework thoroughly before embarking on the planned construction, demolishing houses for nothing. Governor Abiodun has divided the work into three sectors to be done simultaneously. He should be given the benefit of doubt.
He's not Amosun; he means exactly what he says. Indeed, when the economy of the state improves, much more work will be done.