Don't Make 2023 Election Winner Takes It All, Adegbite Urges Politicians
Chairman of the Christian Association of Nigeria, Lagos State Chapter, Bishop Stephen Adegbite, has urged politicians contesting the 2023 election not to make it a winner takes it all.
Instead, Adegbite said whoever emerges victorious should bring together everyone across political parties to salvage Nigeria.
Speaking at a peace accord organised by the Directorate of Politics and Governance, DPG, in conjunction with the Pentecostal Fellowship of Nigeria, PFN, in Lagos on Thursday, Adegbite said there's need for all politicians to come together and rescue the country.
He, however, prayed for peace to reign in Nigeria, before, during and after the election.
The host, Bishop Theophilus Ajose maintains that politicians should know that governance started immediately politics ended.
Ajose explained that there's need to hold politicians accountable in order to perform to the optimum.
Explaining further, Ajose said the essence of the peace accord was for politicians to eschew violence and embrace peace, adding that there won't be any development anywhere there's tension.
The chairman of the Pentecostal Fellowship of Nigeria, Apostle Enyinnaya Okwuonu, enjoined the politicians to embrace each other, adding that the election will produce winners and losers.
Okwuonu said whoever wins should be magnanimous in victory, while those who didn't make it should accept their fate or seek redress if not satisfied with the process instead of resorting to self help.
To Bishop Stephen Ogedengbe, one of the guest speakers, the antidote to peaceful co-existence is to talk to your enemies so that you can resolve your differences.
Apostle Titi Oluwadare during the opening charge urged everyone to pray for Nigeria as the country goes to a crucial poll in nine days.
She said there's serious contention by the kingdom of darkness against Nigeria.
Apostle Oluwadare who spoke virtually from her base in the United Kingdom said
Political parties present at the peace accord should imbibe the spirit of good sportsmanship.
Politicians from eight political parties who attended the summit embraced each other and signed the peace accord to commit their parties to free, fair and peaceful election.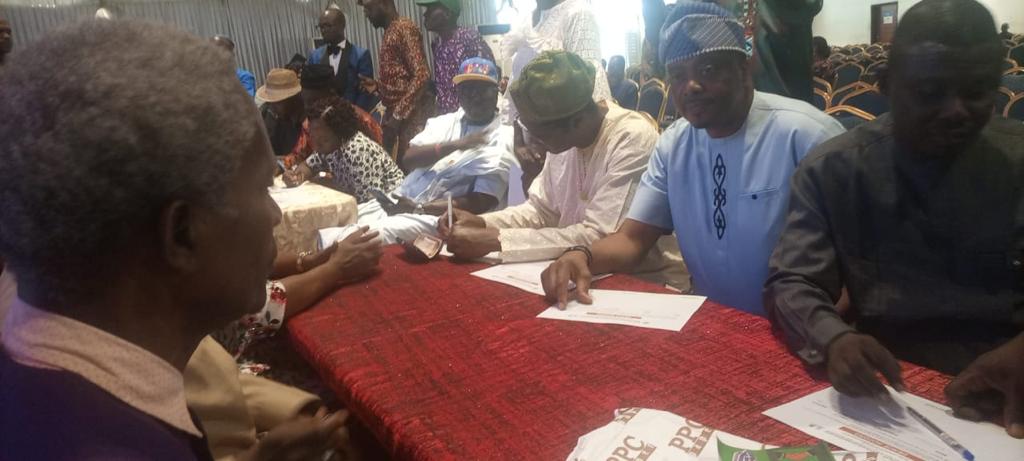 Political parties at the peace accord include Labour Party, PDP, APC, AAC, ADC, NRM, NNPP and ADP.