ANENE @ 50: Obi, Tinubu, Good To Be Nigeria's Next Leader
…Atiku Came In Crookedly That's Why God Is Using Wike To Afflict Him
"The formula of life is simple. It is the formula of giving – giving courage, attention, peace, love and comfort to yourself and the society",- Amit Ray
Aforementioned quote are some of the virtues that Prophet Anene Nwachukwu, the Overseer of Rhema Deliverance Mission Lagos lives for. Born 50 years ago to the family of Bishop Arthur Nwachukwu, a deliverance minister, Anene heeded the call of God to serve in His vineyard where he functions in the office of a Prophet about 30 years ago. The pastor one of the most admired cathedrals in Lagos with stunning numerical strength, in an interview with this medium, Oracle as he is fondly call speaks on life at 50, the achievements, expectations, the forthcoming general elections and much more.
Enjoy the excerpts…
Life at 50 is a milestone, what has life taught you at 50?
Yes, I will be clocking 50 on the 24th of February, 2023 but we are having the celebration on the 18th due to the forthcoming General Election, so that my visitors can be able to return peacefully to their respective destinations to prepare for the elections.
Everything about life is giving gratitude to God.  Firstly, age is a number while stage is a level.  I'm happy about the stage God has brought me in life because there are people of 50 years who have not gotten to the stage God has brought me to.  Most cannot be able to do 20% of what God is using me to do.  So I must have to appreciate God for my life so far.  The level of God's love towards me at this age is something to give gratitude to God about.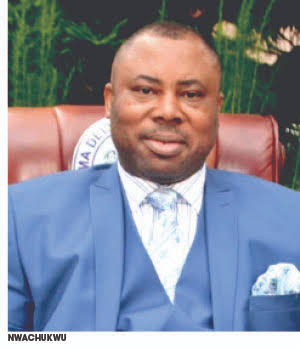 Talking about state and level sir, at 50 you have a thriving ministry with a very magnificent cathedral and numerical strength. One won't be wrong to count you as an achiever, what do you think?
As for me, I can't count big cathedral and material possessions as indications of arrival, they are only ephemeral. The greatest achievements I want to count on is seeing that God use me to tough lives, that hell-bound souls are diverted to the kingdom of God, decongesting hell and making people know that Jesus is coming again and preparing the Saints for the rapture of God.
I want to see God use me to make the barren conceive, jobless men to have dream and ideal jobs, those expecting marital fulfillments to find their own life partners, affecting lives and affecting families. Those are the greatest achievements I want to be ascribed to my earthly sojourn.
In all that God has given you at 50, which would you outline as very dear to your heart?
I can tell you that many lives have been liberated and touched; many people wallowing in abject poverty have been diverted and converted to comfortable lives. We make people to know the impact of the existence of God in their lives. God created man in His own image and likeness and said that they might have dominion. Dominion is God's ability in you to demonstrate authority. When you discover who you are, you will be able to make impact, knowing that you're not ordinary. Though everyman may be created to be ordinary but you can achieve extra ordinary things because God has given us the capacity to look like Him. We're created in His likeness to have dominion over everything, so if we're dominating over everything God has created it means we should be outstanding when others are standing. We have to be different from others because our case is different.
Summarily, I want to see achievement as making the poor to be rich, showing milk of kindness to humanity, affecting lives positively. These are my most cherished achievement as a servant of God.
Sincerely, you're a blessed man, with thriving ministry, good family and material acquisitions, what has God not done for you at 50?
So far, so good! God has been so faithful to me and my family, I must confess. At 50, I have six children most of whom are in high institutions while some are in secondary school, four girls and two boys. I'm also blessed with a Godly woman who's also thriving in ministry as wife. At my age, when I look around me, realizing that I came to Lagos empty handed and absolutely single, but today I'm married with children. I was leaving as a tenant but today I'm leaving as a landlord in my own house. Started the church in a rented apartment but today the same church is situated in a cathedral of international standard. In all of these, I must say that God has been so faithful to us and we are believing him to do more for us. We're not yet there but I believe by His special grace we shall be there.
Away from your birthday, people are suffering in this country now more than ever, there's untold hardship in every facets of our endeavors, there's anger in the land, people cannot access their money in the bank, no PMS, hunger has become a norm, insecurity of lives and properties our new anthem, what is the role of the church at this time?
The answer is very clear. The bible says "when the righteous is in authority, the people rejoice but when the wicked is there, there will be lamentation, wailing and crying everywhere". I don't think we have gotten it right. When this government was coming in, they started very wrongly and if you look at the Federal Executive Council, you will discover that those who are there for over seven years now are still there. I believe that every cabinet should experience some changes at one point in its lifespan, especially midterm changes to inject new bloods into the system, to get rejigged and function optimally.
Again, the composition of the Service Chiefs is questionable, there's no single representative of the Eastern Nigeria in that body. Does it mean that there's no single person that's qualified within the Eastern part of the country to occupy top positions in the Police Force, the Navy, Army, Immigration, Customs, Prisons or Air Force.
Look at some redundant ministers, like that of Education. What is the Minister of Education still doing in that cabinet, with the protracted AASU strike, have you seen his face in any convocation ceremony of any university in Nigeria.
When you look at the situation in this country, you can only pray that God should give us a leader that is after God's heart. How much was Naira exchanging against the USD during President Jonathan's regime. What was that magic Jonathan did for about six years that stabilized the economy that a bag of rice was selling for N5,000, beans N8,000 while dollar hovered around N170 and N200. But today dollar is over N700. What was that magic that Jonathan did, they're supposed to have consulted him for a blue print on how he handled the economy within his time in office. We keep hearing that PDP ruled for 16 years but the APC have been there also and almost eight years, you're still blaming the PDP. A bag of rice now is about N40,000. If this administration continues for the next one year, there will be no country called Nigeria, so we're praying that this government should phase out and let God give us a man after His heart that can bring smiles back on the faces of Nigerians.
The old/new Naira swap policy has become a protracted issue in the country, while the Supreme Court adjourned to 22nd of February; President Buhari has made his pronouncement that only the N200 can run concurrently with the new one and other higher denominations till April 10, what is your take?
Though the issue is absolutely not a judicial matter but judiciary is the last hope of the common man. The Federal Government has given a directive and the CBN who have the statutory right to regulate our currency, through its Governor, Mr. Godwin Emefiele have made it categorically clear that their deadline is sacrosanct.
It is time for the federal government to overhaul the judiciary; some of their judgments are contradictory. Only few Nigerians are crying for the extension of usage of the old naira denominations, rather CBN should make the new one available and that settles the matter. As a journalist, "do you still have the old naira notes" (he asked rhetorically)?
80% of Nigerians don't have money, not to even talk of depositing them; all they need is availability of the new one. It is only those who starched the money in their houses that are calling for extension. Nigerians have no money to deposit anywhere. The politicians want to use it to buy votes, that's why they're clamoring for extension.
To answer you directly, federal government should stand their ground on their decision.
The General Election will be coming up in about a week's time, precisely, 25th February for national and 11th March for states. As usual, politicians have been campaigning, especially the presidential flag bearers. As a mouthpiece of heaven, who amongst the top contenders have God chosen to be Nigeria's next leader?
The truth is that all the presidential candidates are very good in their own rights. Atiku is good, Tinubu is good, Obi is good and Kwankwaso is also good. But we must always do things with equity and justice. If you look at Nigeria as a country, Buhari form North-West is ruling for eight years running, will it be fair for another northerner to be coming up now? If I'm privileged to meet Atiku, I will advise him to step down because part of the problems the Igbos are suffering today is as a result of their resounding support for Atiku in 2019.
The Igbos gave Atiku their block votes in 2019, Atiku was unable to win and Buhari took it against the Igbos. Now all the northern governors came together and unanimously agreed that power should shift to the south but Atiku used his money to influence delegates to get the PDP mandate and that's where it will end. The election is between Tinubu and Obi.
Thank God for using Wike to create the G-5 governors to deplete the PDP camps, because to the crooked, God is crooked and to the upright, God is upright. Atiku came in crookedly and today God is using the G-5 governors to deal with him.
I strongly believe that power should go to the south. Tinubu is a good candidate and Peter Obi is equally a good candidate. But the bible says in Isaiah 1:19 "if you are willing and obedient, you shall eat the good of the land", so let's pray that God will make Nigerians to be willing and Obedient to come out en mass and to be Obedient so that they can eat the good of the land.
In your assertion, either of Peter Obi or Bola Tinubu is good to go, but a lot of people complain of Tinubu's age and health status, what do you think?
Well, Tinubu have clearly told Nigerians that he's not contesting for Olympics; neither is he contesting for World Wrestling Championship bout. For a man to tell you that he is physically fit to contest and run for the office of President, he is okay but if we believe in justice and equity, it should be the turn of the South Easterners to produce the next president.
But beyond the issue of equity and fairness, Tinubu is an absolute good candidate and a good leader in every sense of the word. He is a political master planner and strategist. I give him thumbs up for his political sagacity but I believe that for justice and equity, a Yoruba man, Chief Obasanjo ruled for 8 years, Shonekan, also a Yoruba man led the interim government, the Hausas have taken their turns to rule the country. No Igbo man has taken a shot at the presidency. I believe that for equity and fairness; let an Igbo man be supported this time around.
Finally, on Saturday, 18th February, 2023, all roads will lead to Rhema Cathedral, Iba, Lagos to celebrate a life of Grace at 50. What should be the expectation?
Friends from far and new, family members, church sons and daughters will gather to appreciate God for my life at 50 and its going to be a great occasion. At least celebrating the Oracle's stepping into the golden age. It's an amazing feeling and we're going to celebrate. We're going to roll out our drums and sing unto the Lord for preserving the Oracle.
Do you have any expectation from God at 50?
The greatest gift I'm expecting from God is long life, more grace, more anointing, more vision, and grace to remain more focused to my ministerial calling.