Political Cartels In Lagos Against Me, Says PDP Guber Candidate, JANDOR… Presents Wife To Public To Dispel Rumours
The Peoples Democratic Party, PDP, gubernatorial candidate in Lagos, Dr. Olajide Adediran, aka JANDOR, has revealed that cartels and godfathers in PDP and All Progressives Congress, APC, are allegedly working against his victory in the March 18, governorship election in the state.
JANDOR, however, expressed confidence to triumph at the end of the day, against all odds, saying "the battle is of God and not of JANDOR of any godfather."
JANDOR, who sang various christians hymns and songs in celebration of his anticipated victory on Saturday, said he's optimistic of winning.
This came as he publicly presented his wife, Mariam Adediran to party faithful, in Ikeja, Lagos.
This came following viral video of a lady on social media, claiming to be JANDOR's Mistress, and jilted by JANDOR after series of love escapades together.
Mrs. Adediran, arriving from United States of America, appeared at the Liberty House, of JANDOR's campaign at a stakeholders meeting at about 5.50 pm.
Addressing the crowd, mainly women leaders and members of PDP across 20 Local Government Areas of the state on late evening on Tuesday, said he was aware of some godfathers in PDP, who had decided to ensure his defeat at the Saturday polls by endorsing and working for Labour Party candidate, Gbadebo Rhodes Vivour, as well as APC, apparently referring to PDP chieftain, Bode George and President-elect, Bola Tinubu.
According to him, "We are all aware of the whirlwind in the polity towards this governorship polls in Lagos as a result of activities of some godfathers in PDP and APC who are bent on subverting the wishes of the majority.
"The leaders have been beating the drums of war for the last few weeks with provocative statements, harassments and propaganda. But am sure all these will soon subside. God has exposed them as they are beating the drums of war.
"Because I resisted the move by a godfather in PDP to pick Rhodes-Vivour as my deputy, they lured him (Rhodes Vivour) to Labour Party to confront us and stop our dream but this will definitely fail. We are resolute in attaining victory. We have worked hard for it in the last 10 years. The new wave of LP will not sop us.
"Everything needed to be done to ensure victory we have done, nothing will stop our victory on Saturday. We have our eyes on the ball. The battle I not of JANDOR but it's of the Lord, like the Biblical Gideon. And By God's grace we will this election to free Lagosians from the shackles of godfatherism which have held sway for many years in the state".
Apparently referring to the ruling party, APC, the incumbent governor, Babajide Sanwo-Olu and Tinubu, said "they are in panic mode as the state governor, Sanwo-Olu has suddenly turned into a jelly-fish, running from pillar to post to save his job. There will be no need for all these if he has performed. "
JANDOR continued: "We know they (APC) have been collecting Permanent Voter Cards, PVC, from electorate to manipulate the polls' result. But we are assuring them they will meet their waterloo this time.
"They (APC) do not have the monopoly of madness. Machineries have been put in place to check any fraudulent moves. We will protect our votes from the polling to collation centres.
"This election is to send the ruling APC packing. Remain steadfast, calm down because the battle is of the Lord. We will win this election.
"To the electorate and PDP faithful, I urge you not to succumb to their threats, intimidation. We will protect our votes. Our votes will count this time, come out on Saturday, en-masse to exercise your rights."
JANDOR's wife speaks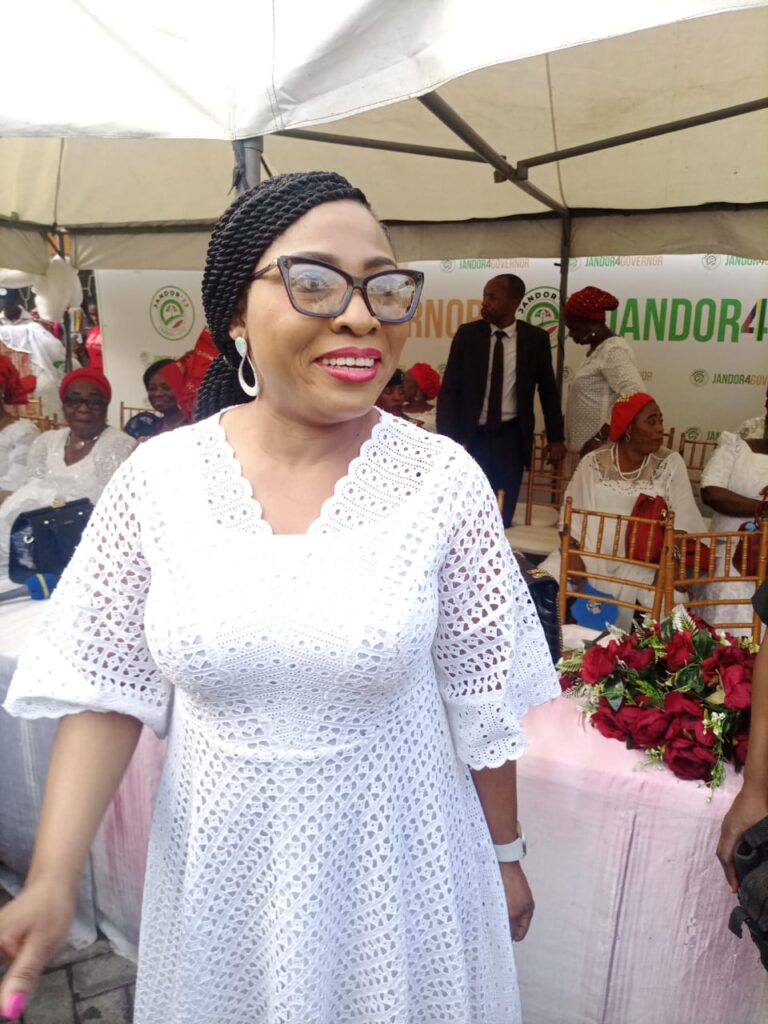 Mrs. Adediran, was beaming smiles and excitement amid wide ovation from the cheering mammoth crowd upon her arrival.
She berated the sponsors of the campaign of calumny on social media about her family and her husband.
According to her, she has been part of her husband's political movement and has always supported him even from her abode in the USA.
She said, "I have been part of this movement and we, my husband and myself agreed that he would be in Nigeria to drive the movement while I will be in the U.S.A with the children.
"It is disheartening what people do in the name of politics on the social media. I am not a social media person but I read everything they put up there.
"I want to use this opportunity to thank you, our mothers, leaders of the paharrasmentrty who have been supportive of my husband. I love you and even though the election is a few days from today we still have so much to do together and I know that God will grant our efforts with success."
Responding to questions from journalist as to the likelihood of relocating to Nigeria if her husband wins the election, she said, "I am always in Nigeria not just physically because I have my businesses here as well. I sell all over Nigeria. Even if I am not here for a moment my projects will not suffer because I have capable hands."
"I am in Nigeria and will continue to be here. When my husband emerges the Governor of Lagos State, we will discuss how we would work but I will tell you that you will not feel the absence of the first lady.
"I will advise women to believe in themselves. I have my first degree and am pursuing my second degree, have my children and other businesses that I am pursuing. I want to say that as a woman, if you are determined, nobody can drag you down.
"I will make sure that all the woman in this movement, not only here but also in Lagos stand on their feet and being on themselves.
"I am always in Nigeria not just physically because I have my businesses here as well. I sell all over Nigeria. Even if I am not here for a moment my projects will not suffer because I have capable hands. I have to support my husband from behind, we are not a social persons."