NDLEA Arrests Pregnant Woman, Crippled For Drug Offenses
By Bukar Bolori
A 24-year old pregnant woman, Rabetu Abdulrasak, and a crippled, Shehu Adams were among the people arrested for various drug related offenses by operatives of the National Drug Law Enforcement Agency (NDLEA) in the course of last week.
A statement on Sunday by the anti-narcotics agency, Femi Babafemi said the pregnant woman and the cripple were arrested by NDLEA operatives in Agbede, Etsako West local government area of Edo state while over 14 kilogrammes of assorted illicit drugs including cannabis, methamphetamine, tramadol and swinol were recovered from them last Saturday.
Babafemi also disclosed that consignments of tramadol, rohypnol, Ecstasy (designer drug) and cannabis concealed in winter jackets and bottles of body cream were intercepted by operatives of the National Drug Law Enforcement Agency, NDLEA, at the Murtala Muhammed International Airport, Lagos.
He said the psychoactive substances were recovered at the new terminal of the airport last Friday following the arrest of a passenger, Josiah Sunday who was traveling on a Qatar Airline flight via Doha to Oman, in the Middle East.
He noted that a thorough search of the suspect's two black bags led to the discovery of 4.8 kilogrammes of cannabis concealed in three winter jackets and various quantities of tramadol, rohypnol, Ecstasy (designer drug) hidden in bottles of body lotion, adding that preliminary investigation revealed that the suspect came into Nigeria from Oman on April 7, and was returning exactly a week after.
He also disclosed that a Lekki Lagos based businessman, Cyril Chidiebere was on last Friday arrested along with two of his freight agents: Mejabi Sunday and Oyeyinka Babatunde over their involvement in the importation of 12 parcels of Loud, a strain of cannabis, weighing 6.5 kilogrammes, which was part of a consolidated cargo brought in from the United States of America.
He revealed that the arrest and seizure followed a three-day intelligence led operation.
He said: "Following the arrival of the cargo at the NAHCO import shed of the MMIA, its movement out of the airport was closely monitored in a sting operation until the actual importer, Cyril Chidiebere, was arrested in his house at Abraham Adesanya estate, Ajah, Lekki area of Lagos.
Both Mejabi and Chidiebere have made useful statements to confirm that the latter has been involved in dealing on illicit drugs in the past."
Babafemi also said a 22-year old HND 1 female student of Federal Polytechnic, Ilaro, Ogun state, Isoyo Susan was last Saturday arrested opposite 2nd Gate of the institution for dealing in illicit drugs.
He said recovered from her include 1,100Ml. of codeine-based cough syrup and 283 grammes of cannabis, noting that this is just as operatives in Lagos arrested two suspects: Nonso Peter, 21, and Bright Chibike, 23, with 43.4 kilogrammes cannabis at Ile-Epo, Abule Egba area of the state last Friday.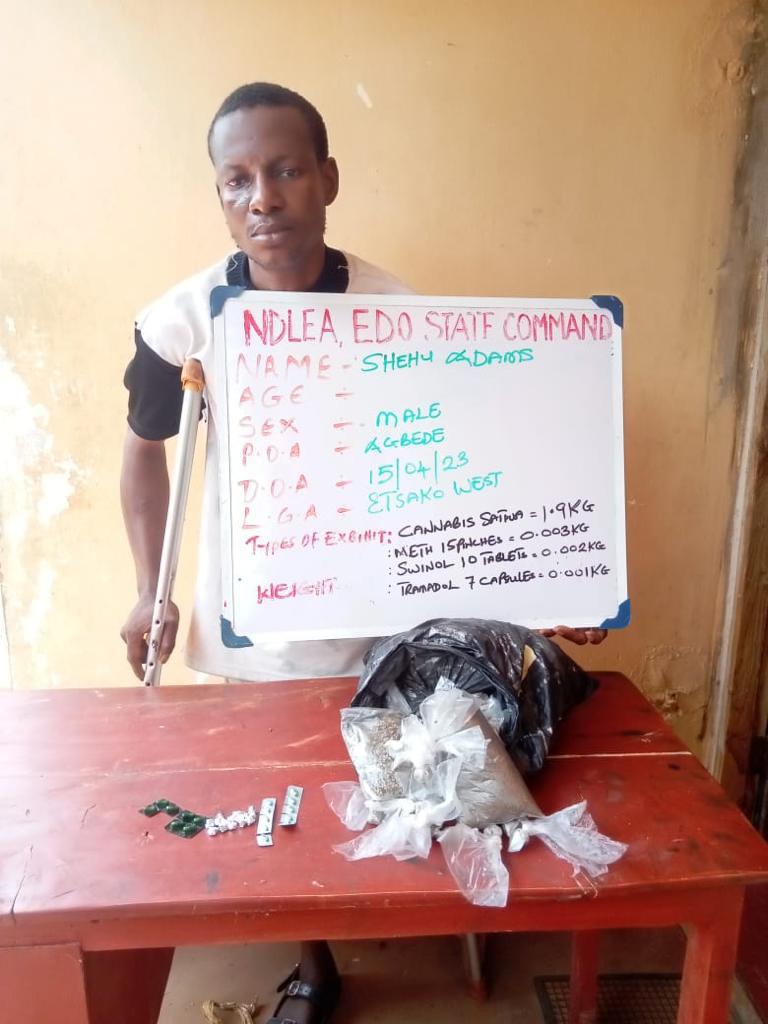 In Katsina state, no less than 1,730 bottles of codeine-based syrup were seized from a suspect, Bishir Sa'adu in Katsina metropolis on Sunday 9th April just as Muhamadu Yusuf was equally arrested same day with 8,000 capsules of tramadol inside a commercial bus along Kano – Katsina road.
In the same vein, NDLEA operatives in Kaduna last Thursday raided a clandestine laboratory where mist potassium citrate was being produced in a residential apartment at 16 Sabon Gari, Zaria.
The owner of the lab, Christopher Agodi was arrested and 102 cartons containing 2,448 bottles of the substance recovered; while a suspect, Salisu Abdullahi, 25, was arrested along Abuja-Kaduna road with 11.7 kilogrammes cannabis concealed in two jerrycans, which he was moving from Port Harcourt to Kano.
Operatives also last Saturday nabbed one Atiku Abubakar, 22, on the same road with 50 blocks of cannabis weighing 28 kilogrammes while travelling from Lagos to Shinkafi in Zamfara state in a commercial bus.
He added that similarly, anti-narcotic officers acting on a tip-off, arrested two suspects: Aminu Saudi, 45 and Abdullahi Sani, 35, at Ogbese, Ondo state, with 11 jumbo bags containing 211 kilogrammes of cannabis concealed in rice chaffs.
This was closely followed by the destruction of six hectares of cannabis farm in Uso forest in the state lat Thursday.
Meanwhile, Chairman/Chief Executive Officer of NDLEA, Brig. Gen. Buba Marwa (Retd) has commended the officers and men of the MMIA, Edo, Ogun, Lagos, Katsina, Kaduna and Ondo Commands of the agency for the arrests and seizures of the past week.
He urged them and their compatriots across the country to remain focused and continue the current drug supply reduction and drug demand reduction efforts simultaneously.