UNICEF Urges Youths To Explore Opportunities In Digital Space
The United Nations Children Fund has urged Nigerian youths to explore opportunities available for them in the digital world to thrive.
UNICEF Programme Officer, Joannes Yimbesalu harped on the need to empower youths by giving them neccessary supports they required to become successful and attain their full potential in life.
He said this in Lagos at a 2-day Media Dialogue organised by UNICEF in collaboration with Lagos State Directorate of National Orientation Agency (NOA).
The event brought young persons and selected journalists together to interact, learn and to build their capacity to raise awareness of the benefits and opportunities youths can gain on various digital platforms.
Yimbesalu called on media to support the youths by amplifying their voice to attract government attention so that policy makers would take necessary actions in addressing unemployment in the country.
According to him, "We see a lot of resilience from young people. They are very creative and they and very innovative. There is need to empower these youths by giving them the neccessary supports, both financial and capacity development and ensure that whatever they are doing, they are productive".
The NOA Director in Lagos, Mrs Adetola Adegboyega admonished youths to shun any act that may be inimical to their future.
She charged them explore digital platforms productively and stay focus in life.
Adegboyega said; "Our youths should be focused and know that there are opportunities here. There are many opportunities for them on the digital space. Social media is not necessarily for internet scam known as Yahoo Yahoo. There are better things that youths can do online and make legitimate income".
Taiye Tunkarimu, Head of Communication, Stakeholder Management an Promotions, Lagos State Employment Trust Fund highlighted the activities of the agency towards addressing unemployment by creating employment and entrepreneurship opportunities for Lagos residents through access to finance, vocational skills training, innovation and market simulation.
The Director, Policy, Planning, Research and Statistics, Lagos State Ministry of Education Dr Afoabi Adejare charged parents to encourage their wards to key into available online digital learning platforms such as Nigeria Learning Platform, Eko Digital, Eko Excel among others to compliment the existing methods of impacting knowledge.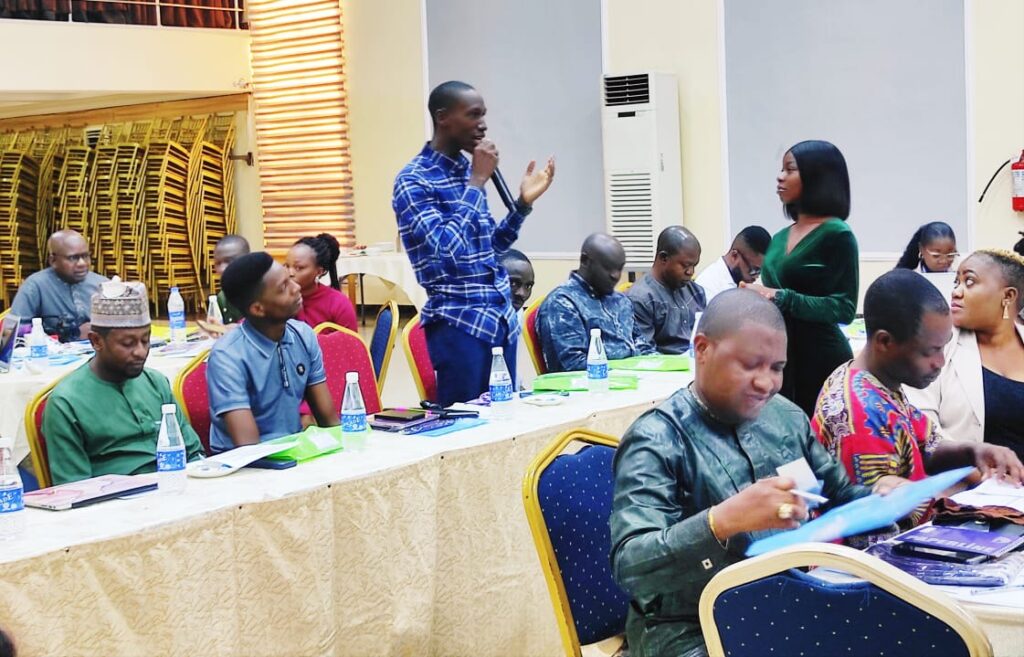 Some of the participants, Adedeji Ibraheem Adewumi, Biojela Zainab Afolashade and Akpoborie Emmanuel Oreva described the event is an eye opener for them and expressed their desire to cascade the knowledge to other youths.
The youths called on government to tackle unemployment by supporting young persons with knowledge and facilities that would enable them thrive and become successful in Nigeria rather than migrating to other countries.
UNICEF Communication Officer, Blessing Ejiofor said the event was aimed at galvanizing the media to support advocacy on digital learning solutions with a focus on bridging the digital divide, especially for girls and young people in hard-to-reach communities.
She noted that UNICEF has collaborated with government and other partners in creating enabling environment for skills development that would enable young people to thrive and be able to respond to the country's social and economic needs. Ejiofor noted that the deployment of the Nigeria Learning Passport (NLP), an online offline and mobile digital learning platform that supports learning and skills acquisition for Children and youths as well as the Youth Agency Marketplace (YOMA) platform are avenues to skill as well as connect young people to opportunities for employment, entrepreneurship and social impact.