Sanwo-Olu: Lagos'll Be Financially Responsible With N115bn Bond Issuance
By BENJAMIN OMOIKE
Lagos State Governor, Mr. Babajide Sanwo-olu on Tuesday signed the N115 billion 10-year 15.25 per cent Series 1 bond issuance due 2033 and the N19. 815 million seven-year 14.675 per cent Fixed Return Forward-Ijarah Lease Sukuk due 2030 – under the N1 trillion debt and hybrid issuance, saying his administration will ensure that the funds are well utilised for the development of the state.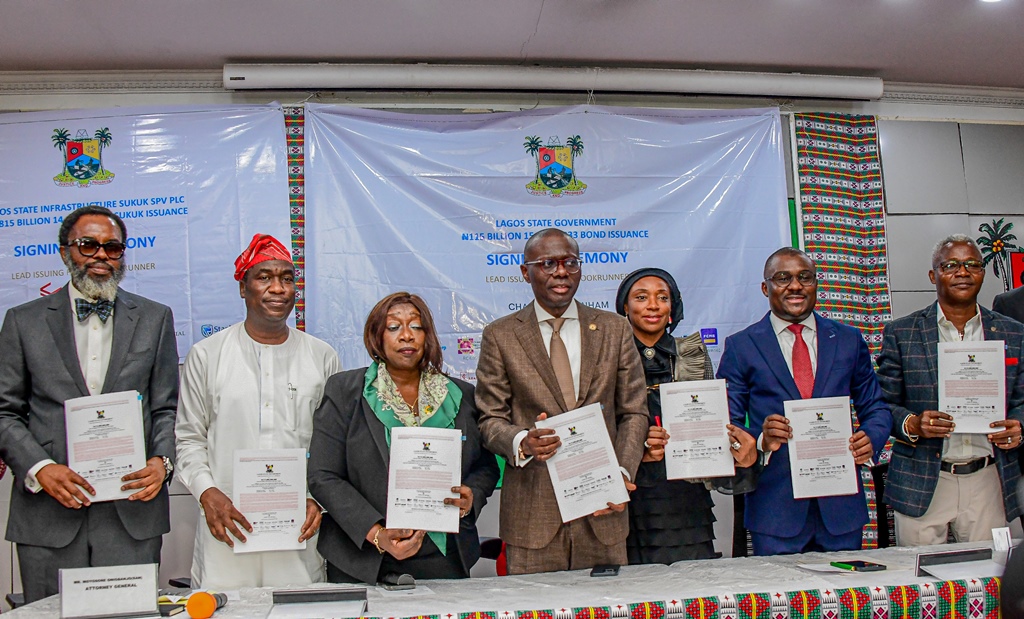 Speaking at a brief ceremony held at Lagos House, Ikeja, to launch the bond, Governor Sanwo-Olu said the proceeds from the issuance will be used to finance priority projects aimed at improving the state's infrastructure and fostering economic growth, in line with the state's THEMES Agenda.
He said, ''Today is another significant day in Lagos State, with us reaching another milestone in our commitment to deliver infrastructural, economic, and societal progress to the people of our great and excellent state. As I renew my mandate in the coming days, these two issuances – which we will be allotted today – will provide the impetus for my administration to further drive our THEMES agenda. ''Proceeds from the Bond and Sukuk will enable various MDAs – including the Ministry of Energy and Mineral Resources, the Ministry of Agriculture, the Office of Drainage and Water Resources – to execute respective projects that have been pre-inspected by the Securities and Exchange Commission.''
The governor explained that the proceeds from these issuances will not only drive infrastructure development, but also stimulate economic growth, foster job creation, and enhance the quality of life for all Lagosians.
He said, "Our objective is to create an environment that attracts local and foreign investors, spurring economic activities that will benefit every citizen of Lagos State.
''I am extremely proud of the performance and accomplishments of the Lagos State Finance Team over the last four years. Under the leadership of Mr Rabiu Olowo and the strong support of Mrs Alake Sanusi (Permanent Secretary, Lagos Debt Management Office) (''DMO'') and Team DMO, Lagos State has charted (and will continue to chart) new financing frontiers through the issuance of new instruments and the disciplined use of the domestic debt capital markets.''
Governor Sanwo-Olu applauded the efforts of the Federal Ministry of Finance and Debt Management Office, Nigeria for the feat recorded, saying the Securities and Exchange Commission has been of immense support to the state government.
''Our appreciation also goes to the investing community for consistently believing in the tremendous opportunities in our state, our discipline, and our efforts to elevate the socio-economic positioning of all Lagos residents.
''Once again, I extend my sincere appreciation to every one of you for contributing to the success of the transactions and taking the time to attend this event. As we move forward together, I assure you that the Lagos State Government remains resolute in its dedication to cross-sectoral infrastructure development, progress, accountability, and good governance,'' he said.