Lagos Assembly Speaker:Sanwo-Olu Backs Tobun, Dumps Obasa
Lagos State Governor, Mr Babajide Sanwo-Olu may have dumped the outgoing speaker of Lagos State House of Assembly, Mr. Mudashiru Obasa.
Sources within Alausa seat of power say Sanwo-Olu is not disposed to the return of Obasa as Speaker because of what he( Sanwo-Olu) considered as an affront from the outgoing speaker.
It will be recalled that Obasa had questioned the decisions of the state government led by Sanwo-Olu on several occasions during his first term.
According to multiple sources who spoke with our correspondent, Obasa is seen as an Oppostion speaker than the partner in progress he ought to be.
"You will recall that on several occasions, he(Obasa) has called to question the decision of Governor Sanwo-Olu on some issues. He attacked him for not presenting his appointees before the Assembly for clearance and encouraged his colleagues to pass a resolution against the Governor. He has also on number of occasions summoned some of the Sanwo-Olu's appointees to appear before the Assembly for scrutiny, when he could actually discussed it since he has access to the Governor without embarrassing him on the floor of the Assembly." Said a source who craves anonymity.
As it stands now some lawmakers (old and new) are being mobilised to vote against the return of Mudashiru Obasa as Speaker.
To replace Obasa, the Governor has found Abiodun Tobun, representing Epe Constituency 1 worthy.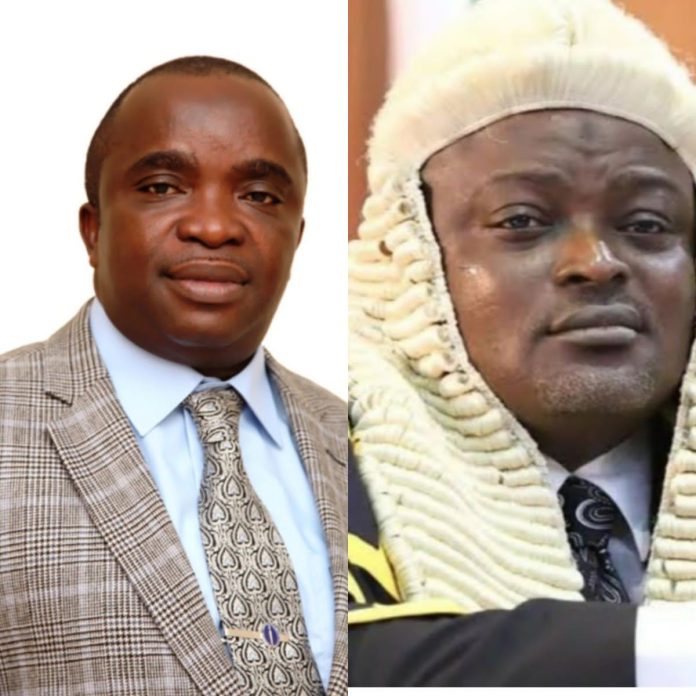 Obasa & Tobun
It was not surprising then when Tobun declared to challenge the Speaker when a new Assembly is inaugurated during their retreat at Marriot Hotel, Ikeja recently.
To tackle Tobun and his backers, Obasa has also gotten the signatures of 39 of the 40 member assembly to endorse him recently.
Obasa, an old warhorse has been in the House since 2003 and has been Speaker since 2015.
Therefore, Obasa's ambition to return as Speaker for a third term is threatened.
Obasa (Agege Constituency) was re-elected on March 18 and had indicated his interest to contest for the plum job but the APC leaders believe "a true Lagosian should hold the top legislative position this time around".
One of the lawmakers backing Tobun said: "Obasa has APC leaders, GAC elders, lawmakers and stakeholders to contend with. Some of us bold enough have told him he is not coming back but he is still running to Asiwaju (President Tinubu). Even Governor Sanwo-Olu is not supporting him. How he will come back as Speaker, I don't know".