CoAS Urges Troops To Eradicate Economic Saboteurs And Vandals
By Bukar Bolori
In a recent address to the troops of the 6 Division, Nigerian Army (NA), Lieutenant General Toareed Lagbaja, the Chief of Army Staff (CoAS), issued a resounding directive to pursue and completely eliminate economic saboteurs.
General Lagbaja delivered this charge during his inaugural working tour to the 6 Division Area of Responsibility on Friday, April 13, 2023.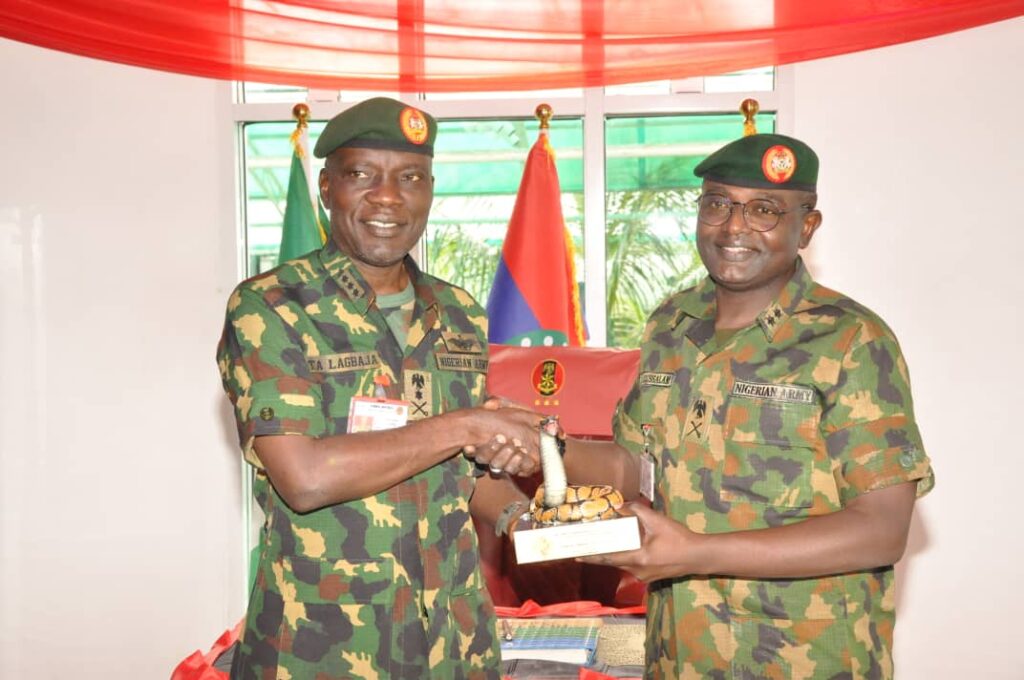 According to Brigadier General Onyema Nwachukwu, Director of Army Public Relations, General Lagbaja emphasized that the Federal Government's primary focus lies in economic recovery, security, and infrastructural development.
He underscored the critical importance of safeguarding the nation's oil industry as a cornerstone of economic stability, with the troops playing a pivotal role in ensuring its security.
General Lagbaja urged the troops to uphold loyalty, discipline, and dedication to their constitutional responsibilities, emphasizing their foremost allegiance to the Constitution and the Government of the Federal Republic of Nigeria.
Furthermore, he implored the troops to adhere to the established codes of conduct, emphasizing that their operations must prioritize the safety and security of society.
He expressed his desire to receive continuous positive feedback regarding the performance of the 6 Division troops throughout the Exercise STILL WATERS III.
During his visit, General Lagbaja inaugurated landmark projects and critical operational platforms vital for reinforcing amphibious operations in the Niger Delta region.
He noted that the acquisition of the initial set of 10 Gunboats represents the first phase, with ongoing efforts to procure additional platforms aimed at enhancing the Nigerian Army's operational capabilities in the riverine domain.
The CoAS also paid a visit to the 6 Division Step Up Headquarters at Ahoada, where he highlighted the importance of inter-agency collaboration.
General Lagbaja stated the objective of bringing together personnel from various security agencies was to foster a collaborative multi-agency environment, thus consolidating existing interagency cooperation.
He stressed the necessity of harmonious teamwork among these agencies.
Major General Jamal Abdussalam, the General Officer Commanding 6 Division, Nigerian Army, expressed his gratitude to the CoAS for the strategic, moral, and financial support provided to the Division.
He elaborated on the upcoming Exercise STILL WATERS III, which aims to facilitate effective operational planning, logistics preparation, Military Operations Other than War (MOOW), and tactical amphibious operations.
The exercise will also focus on civil-military activities aimed at winning the support and trust of the local populace.A key highlight of the visit was the official launch of Exercise STILL WATERS III in Rivers State.
The visit also included a courtesy call on the Governor of Rivers State, Sir Siminalayi Fubara, and the commissioning of numerous projects, among them, 10 Gunboats, a remodeled 6 Division Headquarters Complex reception, twin Regimental Sergeant Majors quarters, an Ordnance tailoring factory, a renovated Corpers' Lodge, and a new office complex to accommodate the Headquarters of the 26 Support Engineer Regiment, among other developments.