I'm Fulfilled At 60—Rev. Dorcas Asehinde
Rev. Dorcas Asehinde, the Founder of Tehilla Chruch,Makogi via Magboro, Ogun state clocks 60years on 1st March 2022. She rolled out drums to celebrate the grace of God in her life.
Speaking on her attaining the age of 60, she expressed her gratitude to God for seeing her through 60th birthday on earth.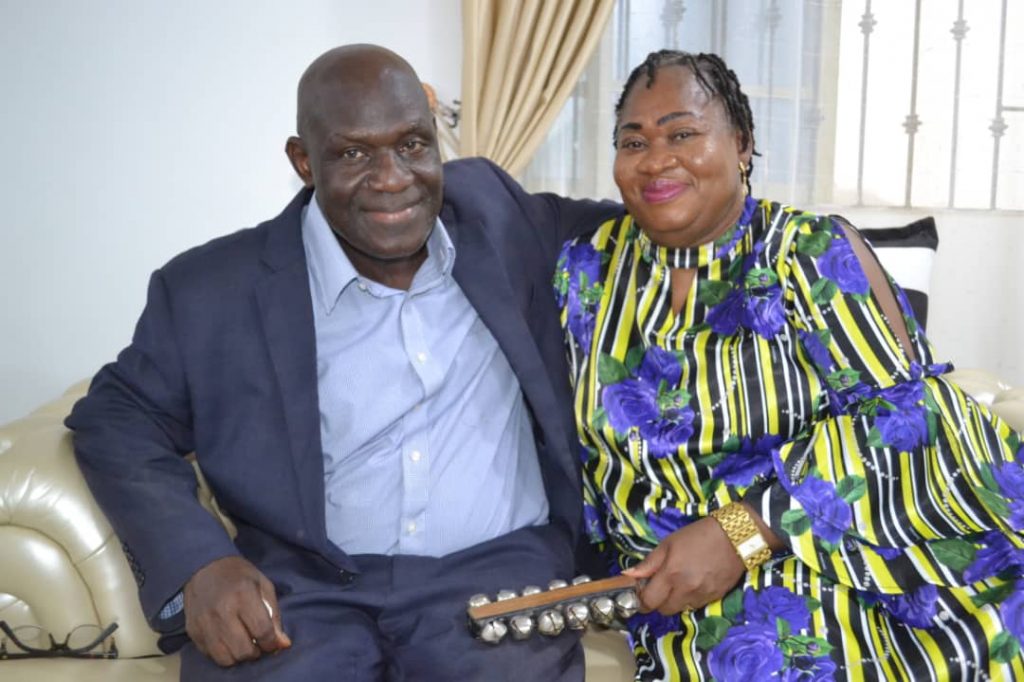 The business woman turned Evangelist was so excited when she was talking to the selected journalists recently.
She said she was fulfilled to have clocked sixty years despite several challenges in the journey of her life.
Rev. (Mrs) Dorcas Olategun Asehinde had her elementary, Secondary and tertiary education in the Northern Nigeria, precisely, Bida, in Niger state before she got married to her husband Engnieer Asehinde in the year 1983 and decided to join him in Lagos.
Sharing her experience in the business world before she heeded the call of God to start a ministry, Rev. Asehinde said she was an enterprising woman, with catering and textile shops in Lagos Island before she was called by God to serve him.
She, however, said she became an international business woman through textile business by selling Guinea Brocade, Swiss Lace etc.
The booming business, according to her made her to travel from Nigeria to other parts of the world such as London, Austria, Cotonou and some European countries to get quality material for her clients who then were the crème de la crème in the society which included, the popular Otedolas and several other influential personality in the society.
"I started with one shop which was located at Tinubu market, Lagos Island", she claimed.
She said that due to high patronage the shop was increase to five thereby making her so popular and influential among her contemporaries in the business.
She explained that the shops were located at high brow area of Nnamdi Azikwe,Tinubu Market, Kosoko; all in Lagos Island.
"People came to purchase cloth from me "Legbe Legbe" which means in group between 1996-2011. I was so blessed", she maintained.
According to the business woman turned clergy ,in 2011, due to stress and ill health which made her to seek for medical attention at Missipissi, in United States of America, she was diagonised of cancer of the breast whereby she had to go under knife and it was a successful one.
Recounting her experience during the surgery, she said, "I was so bold ,I had no fear because Jesus Christ was with me.
"In July 2019 ,things started to change when she had a vision that people gather in the hall with pain, and in that vision , she made bold prayer that God that saved her during the cancer surgery shall equally save these people, sundenly she woke up from the vision, that was the beginging of the journey into the pastoral work."
According to the highly enterprising woman of God, she later told her pastor at New Baptist church that she even needed to serve God more. This led her to Winner Chapels Bible School for more knowledge about word of God as directed by the Holy Spirit.
Again she was eventually invited to the Winners Chapels where she had the oppourtunity to sit behind Bishop David Oyedepo for more annoniting which no new convert has ever done.
There and then she had the voice of God directing her that she should be prasing God at the car park in her house, that was how she began praise and worship inside their car park.
On November 19, 2011,the ministry was dedicated and pastors from different churches came to bless the church and signs and wonders were recorded.
Rev. Asehinde went to Winners Chapels annual programme titled, 'Shiloh' together with her brethren to celebrate one year anniversary of her ministry, miraculously several people were blessed.
"There and then, I have to close down my five shops when I had the call of God", she said.
She said that within the two months that she heeded the voice of God , a Church was built by her to the first floor level in March 2013 at Makogi, via magboro, Ogun state.
"When we got to where the church was located at Makogi in 2013, it was a forest but God promised to make the place a city which it has become now."
She expressed her appreciation to God that she was living in duplex at Lagos but when she heeded the voice of God ,she is now living in Palace,a delighted woman of God said.
"I obey God to the fullest, Everything is obedience," founder of Telhilla Church claimed.
Buttressing her point, her husband, Engineer Tunde Asehinde described her as God given gift,a prayerful woman.
He said that the woman of God has done a lot in her life and family.
Engineer Asehinde who says her wife has passion for God beyond her comprehension, said that she is so generous, a giver and above all an epitome of forgiveness and enterprising woman