Lagos PDP Crisis: Aivoji, Benedict Remain Suspended As Lagos High Court Orders Parties To Maintain Status Quo
An Ikeja High Court presided over by Justice Yetunde Pinheiro, has ordered embattled Chairman of PDP Lagos State, his deputy and other parties in the suit No: ID/6800GCM/2023 to maintain status quo ante bellum pending the hearing and determination of the motion for interlocutory injunction while directing that Respondents be put on notice.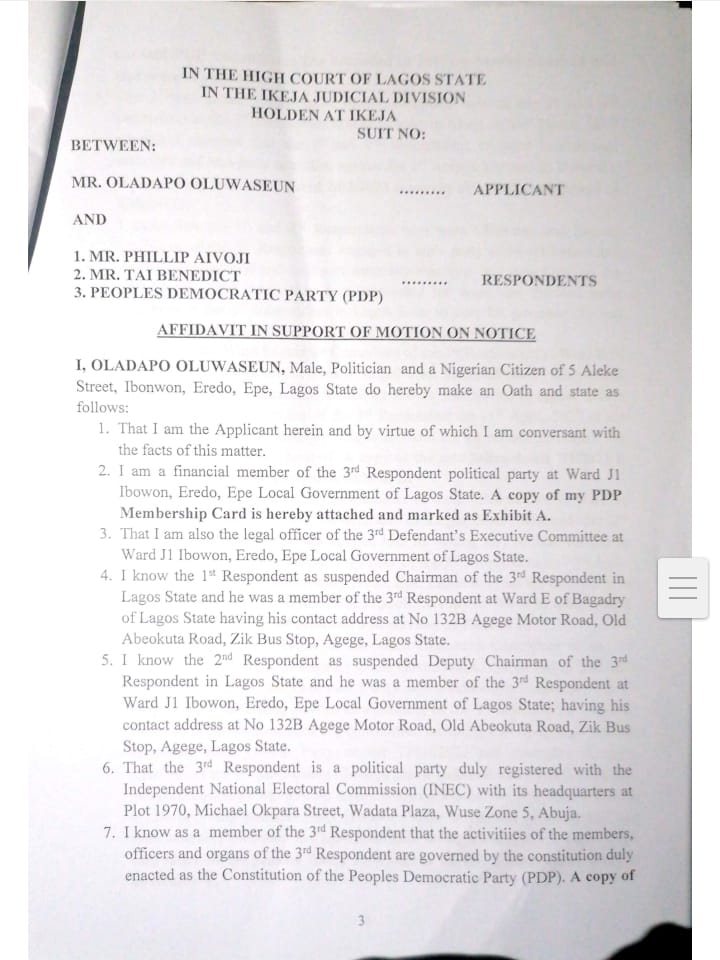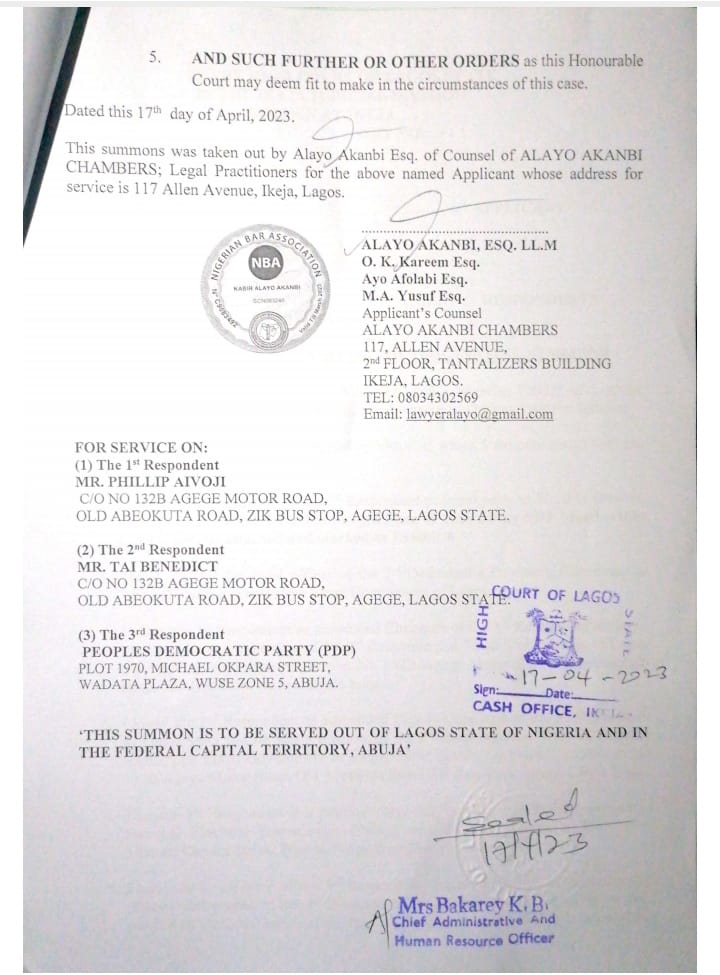 The order was made on Wednesday, 19th April 2023 sequel to Motion Exparte brought before the court by Alayo Akanbi Esq. on behalf of a PDP stalwart, Mr. Oladapo Oluwaseun against suspended Lagos PDP Chairman, Mr. Phillip Aivoji and his deputy, Mr. Tai Benedict. and the PDP in suit No: ID/6800GCM/2023 following the suspension of Mr. Aivoji and Mr. Benedict as members of PDP at their respective wards at Badagry and Epe Lagos State respectively.
The application was supported by an affidavit of extreme urgency and 28-paragraph affidavit in support with eight exhibits including the applicant's PDP membership card, copy of PDP constitution, letter of complaint of anti-party activities against Mr. Aivoji and Mr. Benedict during the governorship election held in Lagos State on the 18th March 2023, invitation letters and copies of of PDP resolution made by ward executive committee at Ward E Badagry suspending Mr. Aivoji and resolution of PDP's ward executive committee at Ward JI Epe Lagos suspending Mr. Benedict as members of the PDP.
Justice Yetunde Pinheiro thereafter ordered the Applicant to ensure the Respondents are put on notice before the hearing of motion for interlocutory injunction and the suit adjourned till 12th May, 2023 for hearing of pending application.