Exclusive! 2023:Buhari To Pick Bakare As APC Presidential Consensus Candidate 
The Serving Overseer of Citadel Global Community Church, aka, Citadel, Pastor Tunde Bakare may emerge the consensus presidential candidate of the All Progressives Congress.
Top sources within the presidency told Newsnowonline that President Muhammadu Buhari is favourably disposed to Bakare's candidature for many reasons.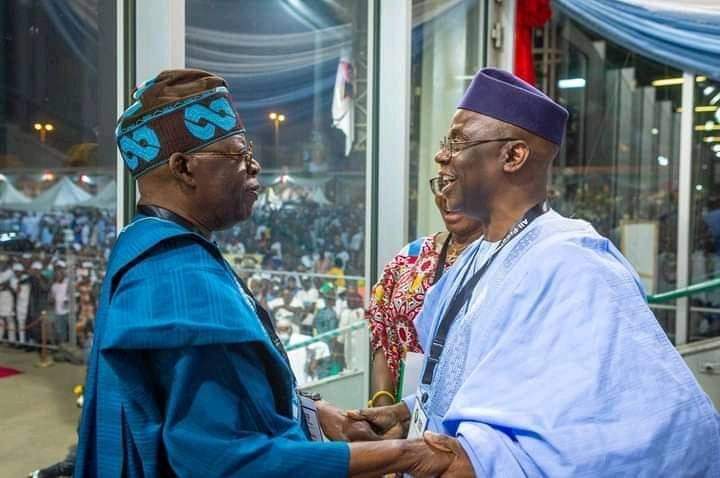 Apart from the fact that Bakare agreed to run with the Daura born General in 2011 when it was considered a political harakiri to do so, they share a very close bond and this Bakare has told those close to him in the Pentecostal fold that he's close to the power hierarchy in Nigeria, a fact he has reiterated in his church many times.
He's also very close to some power brokers in the APC, especially in the north.
He caused a stir in 2017 when he released the famous video that , ' Buhari is no 15 and your sincerely is no 16". He said matter of fact then that he will not oppose Buhari if he seeks re-election in 2019 which he sought and won.
Also, it was Bakare who moved the historic motion for the merger of the legacy political parties in 2014 that fused together and became the APC.
Bakare has also said repeatedly that he's joined the hierarchy of power in Nigeria and will not be pushed aside.
Was there any agreement between Buhari and Bakare that the latter will succeed the former? Those privy to the arrangement said there's likelihood of a pact between the two men.
" Part of the Strategy is to pitch the Vice President, Prof Yemi Osinbajo against his former Boss and benefactor, Asiwaju Bola Tinubu In the run up to 2023. Also, Buhari has allegedly told Bakare In one of his Private meetings to make peace with Tinubu as soon as possible, so that the former governor who wields tremendous political influence across the country, especially south west would not oppose him when the time comes. You will observe that people who have followed Bakare closely were pleasantly surprised last year due to his sudden rapprochement with Tinubu who he has tongue lashed many times in the past. It's part of the script. Buhari's last joker is asking the APC governors and other stalwarts to give him a parting gift which is to accept Bakare as his consensus presidential candidate in May according to the timetable." Said the source who craves anonymity because he was not authorized to speak on the matter.
Newsnowonline findings also lent credence to the emergence of Bakare as a consensus presidential candidate of the APC.
Reacting to the story published about his presidential ambition recently, when he said he's not contesting any presidential election that God has already elected him, the revered man of God spoke to us that he was speaking in parables that it would take a wiseman to understand him. He said, " Adonijah had already prepared everything to be King in Israel and when Solomon got the information, he went to his father and reminded him about the pledge he made to his mother that he will succeed him. David told his men to put Solomon on his Mule and pronounced him king and that was all."
Though, the example above looks simple, a trend in all those who have become president in Nigeria looks similar. Umaru Yar'Adua and Goodluck Ebele Jonathan followed this pattern. The duo were not even prepared before they were drafted to run as president and Vice President respectively. Even in the Second Republic, Alhaji Shehu Umoru Usman Aliyu Shagari who eventually became the president wanted senate before the power brokers drafted him into the presidential race and all the front runners were made to support his candidacy.
Already, the Osinbajo/Tinubu supporters are at dagger drawn. They have torn each other to shred over the presidency that picking anyone among them may polarized the party further. This may affect the Electoral fortune of the party in 2023.
Bakare who was at the dinner organized by President Buhari for the founding fathers of the APC last week in Abuja was also at the Eagle Square for the National convention.
Below is Pastor Bakare's Whatsapp message on the story published which was reproduced here.
Dear Victor, Good evening. Hope you are doing great.
I am not the type to deny whatever I say or have said but your conclusion that I have confused my congregation or the people is absolutely in accurate.
That at best is your interpretation or deduction. Speaking in parables is not the same as confusing any one.
As the Yoruba say: L'owe L'owe la n lulu ogodigbo, ologbon l'onjo, omoran l'onmo."
"Only those conversant with the talking drum can understand what the drummer is saying."
Please listen to the whole message preached today and if you have questions please feel free to ask.
God bless you richly.
Just In: "I Am Not Contesting 2023 Presidential Election… God Has Already Elected Me"— Tunde Bakare
Pastor Tunde Bakare of the Citadel Global Community Church, Lagos, has said he needs not to run during the 2023 presidential election because God has already elected him.
Bakare, who is currently not under the umbrella of any known political party, without mincing words, clearly stated:
"I am not running for elections; we will run the elections. Why? Because God has already elected me."
The controversial Pastor, who seemed to be confusing not only his congregation about his position in the presidential race, but also every other Nigerian, is still very optimistic that he will be the 16th president of the nation; adding another troubling statement that, "if God has elected you, your time will come."
He said, he became certain that someday he will run Nigeria since April 10, 1967, when he was just 13 years old.
Bakare is therefore emphatic that, "God initiated me into the race (since 1967) to fix Nigeria."
He said, on his assumption to office as the 16th president, "he will slay all Goliath" embezzling the nation's commonwealth.
The fiery clergy is also of the opinion that, "there is a way man runs for power and there is a way God gives power."
In Bakare's words: "I am not looking for power but power is looking for us; and because we have spiritual power, it will translate into political power."
He is however of the opinion that, if God will use any man, let Him use him; but that he has no personal political ambition in the 2023 presidential elections.
The lawyer turned cleric emphasized that, "my trust, hope, confidence, and expectations are rooted firmly in God."
"I sleep well because my confidence is in God. However, if He (God) will use any man, let Him use me."
Bakare, who is aware that his controversial statements do annoy people, "my statements have annoyed so many people…" he said, to his congregation to now wear their dancing shoes because "the day (of being the 16th president) is here; with an addendum that, "I am transiting from shepherding the flocks to shepherding the nation."
He again reminded Nigerians that, because leadership positions are temporary, political office holders should make good use of their time while in office to better the lots of the masses and stop syphoning the country's resources with the prayer that, may God visit any political leader, past and present for the havoc done to the economy.
Referring to himself, Pastor Tunde Bakare said, "the 16th is around the corner who will reveal all things stolen in Nigeria."
Source: Sarahreports.com