Anxiety In Military Over New Service Chiefs ….DIG Kayode Egbetokun To Replace Alkali Baba
There is palpable anxiety in the Nigerian armed forces over the appointments of a new Chief of Defence Staff, Chief Of Army Staff, Chief of Naval Staff and the Chief of Air Staff.
This is coming after President Bola Tinubu's meeting with the Chief of Defence Staff (CDS), General Lucky Irabor, Chief of Army Staff (COAS), Lieutenant General Faruk Yahaya, Chief of Naval Staff (CNS), Chief of Air Staff (CAS), Air Marshal Oladayo Amao, Inspector General of Police (IGP), Usman Alkali, Director General Department of State Services (DSS), Director General National Intelligence Agency (NIA), Chief of Defence Intelligence (CDI), Major General Samuel Adebayo and the National Security Adviser (NSA), Major General Babagana Mungono, at the presidential villa last Thursday, reports Daily Sun.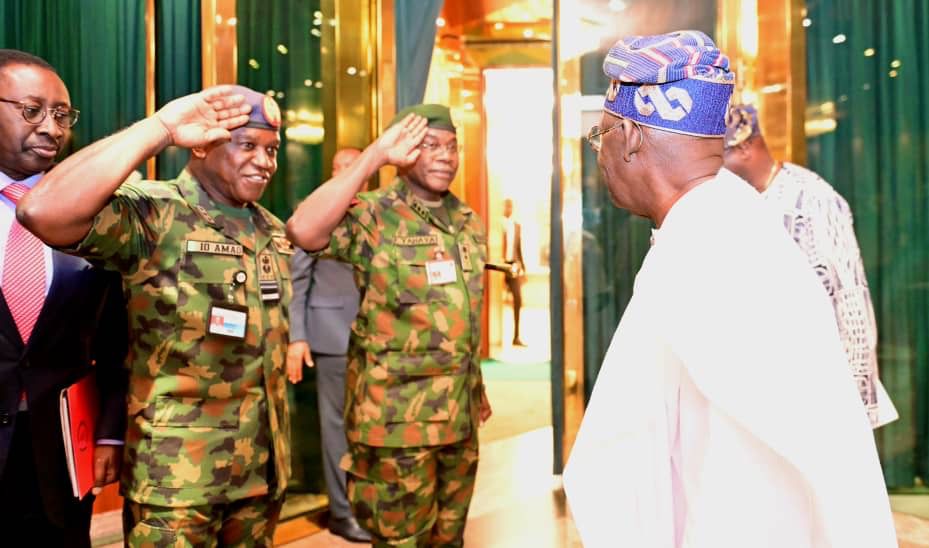 It was gathered that over 300 officers from the Army, Navy and the Airforce may be forced to retire from service, depending on the course from the Nigerian Defence Academy (NDA), where the president decides to pick the new service chiefs from.
Already, the current service chiefs are said to have prepared their handing over notes in readiness to hand over to their successors.
Some of them have also started moving out of their official residence at Niger Barracks to enable their successors move into their new homes.
But while all these are going on those who feel they are most suitable for the job are not relenting as they have embarked on serious lobbying to achieve their ambitions.
It was gathered that "the potential officers suitable for the jobs" are consulting with traditional rulers, spiritual fathers, politicians, contractors, family members and friends of the president and other top government functionaries to achieve their ambitions.
Sources told this paper that it was certain that the new Chief Of Army Staff would emerge from the South West as no officer from that region has occupied that office after Lieutenant General Ipoola Alani-Akinirade, over 40 years ago.
What the South West got after many years was the position of the Chief of Defence Staff, occupied by the immediate past CDS, General Gabriel Olonisakin.
Already, there are four Major Generals from the South West part of the country including a General Officer Commanding (GOC), making the rounds as one of those to be appointed Chief of Army Staff.
Of all the four names, one of them would be appointed as Chief Of Army Staff.It was also gathered that the new Chief of Naval Staff may come from the South West as the president is bent on fighting oil thieves and ending illegal bunkering and other illicit businesses in the maritime domain. However, some of the names making the rounds include Rear Admirals from the North West .
The new Chief of Air Staff may likely come from the South East.
This, it was gathered, is because the only officer qualified for that position in his course is a pilot and from South East.
To become the chief of air staff, you must be a pilot.
But whether this is going to hold water or not would depend on the president who it was gathered already have the list of those to be appointed service chiefs with the help of some retired military officers around him.
The position for the Chief of Defence Staff may also go to the South West if the lobby by some of the officers from that part of the country is anything to go by.
Top military sources told our correspondent that some officers from that region have taken their lobby to royal fathers from their states and other top personalities.
The source who would not want to be mentioned said some of the generals have embarked on media hype to launder their images to get appointed as CDS.
Findings revealed that over 400 officers may be forced to premature retirement from service depending on which course the president decides to pick his service chiefs.
For now, it is certain that members of NDA Regular Course 34, 35, 36 and 37 would automatically retire from service as the current service chiefs are members of the courses.
Findings revealed that the president may decide to pick the CDS from Course 37, which many say is not possible.
So, if the president does not pick the CDS from course 37, he may go to Course 38 to pick the CDS and the remaining service chiefs from NDA Course 39 and 40.
If that happens, automatically members of NDA Course 38, 39 and 40, would be forced to retire prematurely.
The premature retirement from service would affect mostly officers in the ranks of Major General, Brigadier Generals, Rear Admirals, Commodores, Air Vice Marshalls and Air Commodores from the Army, Navy and Air Force.
A similar case happened after the appointment of the current service chiefs where over 300 officers were forced to retire from service following the appointment of their juniors at the NDA as service chiefs.
Meanwhile, Kayode Egbetokun, a deputy inspector General of Police, DIG, is likely to succeed Alkali Baba who retired in February 2023, but was allowed to continue.
Egbetokun, a former chief security officer to President Bola Ahmed Tinubu was commissioner of police in Kwara State; AIG zone 7, Abuja before his current position as DIG investigation bureau, Lagos.
DIG Egbetokun has served in several commands and held several sensitive positions within the Force including postings as Commander Rapid Response Squad (RRS) Lagos, 2005 to 2007, Squadron Commander 5 PMF Benin, Benin City, OC Anti Fraud FCT Command, CSP "A" Lagos State Command, Area Commander Oshogbo, Osun State, Area Commander Gusau Zamfara State, Commandant Police Traning School, Ikeja, Lagos, Deputy Commandant, Police College, Ikeja, CP Servicom, FHQ Abuja, CP Explosive Ordinance Disposal (EOD), CP Kwara State Command. He was until his present promotion and posting, CP (Admin) Medical, Falomo Lagos. He has also attended several courses locally and internationally.
As it is now, the new service chiefs would be appointed in a matter of days after the inauguration of the National Assembly by the president.